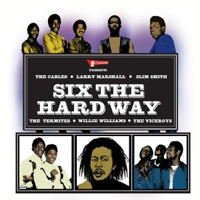 Various Artists
Six the Hard Way (Heartbeat 11661-7829-2, 2006)
In case you can't afford the whole line of Studio One reggae reissues recently put out by the Massachusetts-based Heartbeat label, pick up this scorching sampler instead. It features half a dozen of the noted Jamaican artists who recorded for Clement "Coxsone" Dodd's famed Studio One, including solo singers Larry Marshall, Slim Smith and Willie Williams, vocal trios the Viceroys and the Cables and vocal duo the Termites. Each is represented with three songs, and the result is a mini-primer of what made Dodd's establishment so seminal.
Most of the tracks on Six the Hard Way are from the rocksteady and early reggae eras when soul, R&B and doo-wop influences were still keenly felt but social consciousness and Rastafarian spirituality were emergent forces as well.
Dodd's production expertise and the skills of the top flight studio musicians he employed are as on the mark as the voices. Gems like Smith's cheery "Born to Love," Marshall's wry "Nanny Goat," the Termites' playful but pleading "Have Mercy Mr. Percy" and Williams' ever-classic "Armagideon Time" (given the extended mix it deserves) sound as great as the day they were recorded, full of unpolished spontaneity and strength.
This is only a smattering of Studio One's glory days, but six courses still adds up to a most ample feast.
Buy Six the Hard Way.
Author:
Tom Orr
Tom Orr is a California-based writer whose talent and mental stability are of an equally questionable nature. His hobbies include ignoring trends, striking dramatic poses in front of his ever-tolerant wife and watching helplessly as his kids surpass him in all desirable traits.