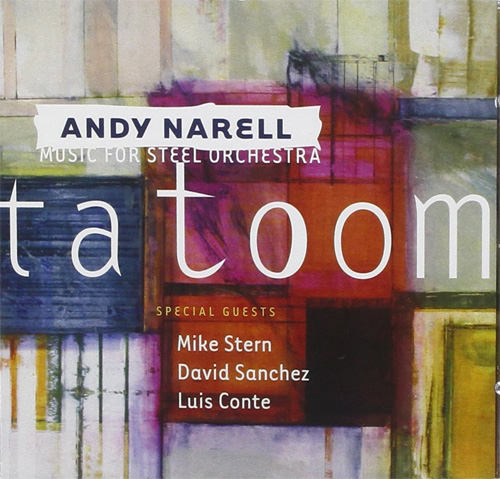 Cleveland (Ohio), USA – Andy Narell's new CD, Tatoom: Music for Steel Orchestra (Heads Up HUCD-3122), will be out on February 27, 2007. With the help of three brilliant soloists – guitarist and labelmate Mike Stern, tenor saxophonist David Sánchez and percussionist Luis Conte – Narell has again merged his unique jazz writing with the power and energy of a big steelband. This time however, he has taken the concept of a composer playing his own music to a new level.
"This entire album was recorded one instrument at a time," says Narell. "I developed the music over a period of 2 years' work at Calypsociation steelband school in Paris, and was playing it live with a 25 piece band before I started recording this album. For this recording, I started with computer sequences of the music, then had Mark Walker and Jean Philippe Fanfant play drums to that. Then Luis Conte played congas and percussion. I added the rest of the 'engine room' – the iron, which is an assortment of brake drums and cowbells. After that, I played all the pans, one at time, and finally my solos, then the solos by Mike Stern and David Sanchez."The recording of Tatoom posed many logistical difficulties, not least of which was assembling a 22 piece steelband of Ellie Mannette's finest instruments. "I've been playing Ellie's instruments exclusively since I was 12 years old," says Narell. "They have a unique, warm sound all across the orchestra, Once I decided to overdub all the parts myself, I took the next step and spent the necessary time on the road recording in various locations, in order to put together an entire orchestra of his best instruments. The sound of the band heard on this record is five tenor pans and four double seconds playing the melodies, four more double seconds and four sets of triple guitars playing the harmonies, two sets of tenor bass, and three sets of six-bass (one bass instrument is composed of six 55-gallon drums)."
So what the listener is treated to is the sound of a big band driven by the burning grooves of Mark Walker, Jean Philippe Fanfant, and Luis Conte, with Andy Narell nailing all the pan parts, playing his own music on the most beautiful set of steel pans ever assembled for a recording. With the addition of solos by Stern, Sanchez and Conte, Narell has again taken steelband music to a whole new place where Jazz and Afro-Caribbean music come together, and where the raw energy of the steelband has been captured by the best recording techniques.
The set opens with "Izo's Mood," wherein drummer Mark Walker burns all the way through, and Narell lays down one of his most engaging solos. The steelband responds with its own composed blowing section which drives the song to its exciting conclusion.
The title track follows with Conte soloing over a gwoka-inspired section, and then Narell takes the listener through a variety of moods, his own solo followed by a bass section solo, followed by what sounds like a latin jazz piano solo written for 17 pan players playing in unison and octaves.
Stern steps in on two tracks – "Baby Steps" and "Blue Mazooka" – to deliver some compelling solo work. In both instances, he throws down effortless guitar lines over a lush bed set up by Narell along with Conte and drummers Walker ("Baby Steps") and Fanfant ("Blue Mazooka"). "Mike is one of those guys who makes it sound easy," says Narell. "Give him room for a solo and let him go, and the ideas just flow and he swings so hard. I've always been knocked out by how he can adapt his sound to blend with the other instruments, so I was thrilled when he agreed to play on the record."
Jean Philippe Fanfant lays down the real French Caribbean biguine for the beautiful ballad "Tabanca," and tenor saxophonist David Sánchez delivers a solo that's as smooth and silky as a warm tropical evening.
"Appreciation," the closing track, was originally composed for the 2000 Panorama competition in Trinidad, and was performed by the 100-player steelband Skiffle Bunch. This is an expanded version of that piece, including a beautiful, haunting tribute to Lord Kitchener, the great calypsonian who passed away while Narell was in Trinidad writing it.
"This album is very different from what's going on in steelband music," says Narell. "There's a lot of writing for the band that's meant to sound like jazz soloing. The idea was that instead of just coming back to the themes after the guests play their solos, that instead the steelband would respond with its own solo. I hope I've added something new to the conversation, that I've contributed something that wasn't there before, and that people will enjoy this music and love the sound of a steelband as much as I do."
With the release of his first solo album in 1979, Andy Narell took the steelpan out of the steelband and brought it into the jazz band, and with every album since, he has explored the possibilities and expanded the role of the pan in contemporary music.
With the release of his groundbreaking album The Passage in 2004, featuring the Parisian steelband Calypsociation and special guests Michael Brecker, Paquito D'Rivera, and Hugh Masekela, he came full circle and brought 25 years of jazz experience to a 30 piece steel orchestra. He followed up with another quartet record from Sakésho in 2005, We Want You to Say (with Mario Canonge, Michel Alibo, and Jean Philippe Fanfant).
Buy Tatoom.
Author:
World Music Central News Department
World music news from the editors at World Music Central