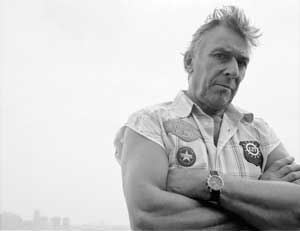 Glasgow, Scotland – Celtic Connections 2007 enters into its second week with a former-Velvet Underground legend showcasing his latest album, the live premiere of an innovative and highly acclaimed BBC Radio 2 documentary series and much more.
Celtic Connections takes place in 12 venues all over Glasgow. The focal point of the festival is The Glasgow Royal Concert Hall, where performances take place in every available space, from workshops in the foyers to performances by world-class artists in the Main Auditorium. The City Halls and Old Fruitmarket, ABC, The Tron, The Piping Centre and Glasgow's newest live venue The Classic Grand will all play host to Celtic Connections events this year over a period of nineteen days in January and February.
Program:
Danny Kyle's Open Stage hosted by Gibb Todd
Mon 22 January, 5:00pm
Free
The Glasgow Royal Concert Hall, Exhibition Hall
BBC Radio 2 Radio Ballads
Mon 22 January, 7:30pm
£18, £16
The Glasgow Royal Concert Hall, Main Auditorium
The Radio Ballads Live is a stage version of the highly acclaimed documentary
series broadcast by BBC Radio 2 between February and April 2006.
Among the artists featured will be Karine Polwart, Kate Rusby, Bob Fox, Jez Lowe, John McCusker, Andy Cutting, Andy Seward, Chris While, Julie Matthews and Barry Coope who all sang, composed or performed the songs in the radio series.
Classic Albums: Dick Gaughan Handful of Earth
Mon 22 January, 7:30pm
£15
City Halls, Grand Hall
Celtic Connections 2007's Classic Albums strand brings three seminal albums, played in their entirety as they were meant to be heard, to stages across Glasgow. The first concert in the Classic Albums trilogy is Dick Gaughan's Handful of Earth. Released twenty-five years ago, as Thatcherism dawned, Handful of Earth has long been regarded as a landmark classic of British folk music.
Didier Squiban Quartet with Simon Thoumire and David Milligan
Mon 22 January, 8:00pm
£12.50
The Glasgow Royal Concert Hall, Strathclyde Suite
Harmonica Night with
Brendan Power and Donald Black
Mon 22 January, 8:00pm
£12
The National Piping Centre
John Cale with Support
Mon 22 January, 8:00pm
£16
ABC
The Velvet Underground's co-founder, bassist, keyboardist and viola player, John Cale was a key driving force behind their ambitions of merging avant-garde experimentalism with rock music.
His Celtic Connections date is the fourth in a ten-date UK tour in support of his forthcoming album Circus Live (EMI Records), a collection of concert recordings due for release on February 5th 2007. Circus Live features Cale with Dustin Boyer (guitar), Joseph Karnes (bass) and Michael Jerome (drums), recorded on tour last year.
Robert Tannahill Launch Concert
Mon 22 January, 8:00pm
£12.50
St Andrew's in the Square
The cream of the Scottish folk scene assemble in St Andrews in the Square tonight to celebrate the classic songs of Paisley weaver Robert Tannahill (1774-1810) from the new CD The Complete Songs of Robert Tannahill Vol 1.
Appearing tonight are singers Emily Smith, John Morran, Wendy Weatherby, Ross Kennedy, Gillian McDonald, John Croall and Ian Anderson. The players include Corrina Hewat, Sandy Brechin, Marc Duff, Aaron Jones, Anna Massie, Frank McLaughlin and Rod Paul, with commentary from the man behind the project, Dr Fred Freeman.
Songs & Music of Scotland:
Skye & Uist, Hosted by Ishbel MacAskill
Mon 22 January, 8:00pm
£8.50
Universal
As well as its four regional music concerts, this year's Celtic Connections will dedicate 10 nights at the Universal Folk Club to celebrating the songs and music of various different regional areas of Scotland. Each night, well-known performers from a different area explore the way Scottish culture is reflected in their own home-grown music scene in the cozy atmosphere of The Universal Folk Club in Sauchiehall Lane.
Following on from last night's Glasgow concert, tonight the festival celebrates the songs
and music of Skye and Uist, as Ishbel MacAskill hosts a night of music courtesy of Sarah Naylor, Darren MacLean and Mairi MacInnes.
Celtic Connections Festival Club hosted by Gibb Todd
Sun 21 January, 10:30pm
£5
Holiday Inn – City West
Tickets can be purchased from the Box Office:
In person at: The Glasgow Royal Concert Hall
2 Sauchiehall Street
GLASGOW
G2 3NY
Online at: www.celticconnections.com
By phone on: 0141 353 8000
Author:
World Music Central News Department
World music news from the editors at World Music Central