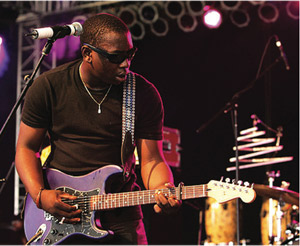 New York (NY), USA – Vieux Farka Touré's February CD release party at Pachá, New York City, marks the launch of Vieux's "Fight Malaria" North American tour. Making stops all up and down the U.S. east coast as well as Canada, check out the dates below to see when he will be coming to your area. The self titled CD, Vieux Farka Toure, was released in January in North America.
This February, Vieux is bringing the energy and charisma that has mesmerized audiences in Europe to the US for the first time, uniting African and American musicians to create a thrilling mix of styles and sounds.Malaria awareness and relief are major driving forces behind the Vieux Farka Touré project. 10% of all proceeds from album sales are being given to a UNICEF-affiliated Fight Malaria campaign in Mali. Tour organizer Modiba is also using the album and its accompanying tour (as well as its Fight Malaria tee shirts) as an opportunity to help spread awareness about malaria, the number one killer of children in Africa. At each stop on the tour, people will be provided with information and encouraged to learn more about the malaria epidemic and what they can do to help fight it.
Tour dates
February 2 – Release party – New York City – Pachita @ Pachá (8pm-4am)
February 3 – Middletown, CT – Wesleyan University/Crowell Concert Hall (8pm)
February 7 – Philadelphia, PA – World Cafe Live (7:30pm) – $20
February 8 – New York City, NY – Joe's Pub (2 sets): 7:30pm and 9:30pm – $15
February 9 – Montreal, Quebec – Festival Nuits d'Afrique (8:30pm)
February 10 – Toronto, Ontario – Harbourfront Centre (10pm) – $15
February 16 – London, Ontario – Aeolian Hall Performing Arts Centre (8pm) – $25 adv/$30 door
February 21 – Syracuse, NY – Syracuse University/The Schine Underground (8pm)
February 22 – Hanover, NH – Dartmouth University/Collis Commonground (8pm) – $15 (non-students, free for students)
February 27 – Northampton, MA – Iron Horse (7pm) – $12.50 adv/$15 door
Buy the CD, Vieux Farka Toure.
Vieux has brand new music video for his track "Ana". It was shot and directed by filmmaker Andrea Wozny during her time in Mali.
Author:
World Music Central News Department
World music news from the editors at World Music Central