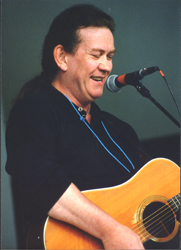 Glasgow, Scotland – The Celtic Connections 2007 Youth Concert program on Saturday, January 20, will feature Dick Gaughan's brand new commission Treaty 300 and Martyn Bennett's Mackay's Memoirs. This afternoon's concert gives young musicians the opportunity to showcase their talent by playing brand new commissions, and lays strong emphasis on the preservation of tradition. Fèis Rois are an Ullapool-based development organization for promotion of Gaelic music and culture, and today they will stage 25 musicians and singers who have come through the Fèis Rois experience.

Fèis is a Gaelic word meaning festival. Recognizing the importance of maintaining and fostering inherent Scottish Highland culture, Fèis Rois began in Ullapool in 1986 to provide a platform for the tuition and performance of traditional music, song and dance in Ross and Cromarty. Its lively program of cultural activities encourages participants of all ages to develop awareness and skills through three Fèisean and an extensive program of year round tuition.Members of Croft No Five, Box Club and the Anna Massie Band, Gaelic singers Rachel Walker, Rachel Newton and Katie Mackenzie, award-winning fiddler Lauren MacColl, Olivia Ross, Rachel Hair, Fiona Dalgetty and the energetic Feis Rois Ceilidh Trail will bring that special Highland exhuberance to Celtic Connections.
Comhaltas, an organization founded to keep Irish traditions high on the cultural agenda, will also provide musicians for this concert.
In addition, this afternoon's concert will feature the specially-convened Celtic Connections Youth Orchestra, comprising a wealth of talent from the Strathclyde University and RSAMD degree courses, City of Edinburgh Music School, and the West of Scotland Schools Symphony Orchestra, all conducted by Mark Sheridan.
They will showcase Dick Gaughan's brand new special composition Treaty 300, in what will be the first ever performance of the piece. Marking 300 years since the Act of Union, Treaty 300 is a politically charged piece that asserts the strength of Scotland's culture and sense of unique identity.
The orchestra will also play acclaimed folk/orchestral work Mackay's Memoirs by the late Martyn Bennett.
Celtic Connections Youth Concert
Sat 20 January, 1:00pm
£12.50
The Glasgow Royal Concert Hall Main Auditorium
Fèis Rois
Celtic Connections Youth Orchestra
Comhaltas
Mark Sheridan Conductor
City of Edinburgh Music School
West of Scotland Schools Symphony Orchestra
(1:00-3:00pm)
Festival information: www.celticconnections.com
Other links:
Author:
World Music Central News Department
World music news from the editors at World Music Central