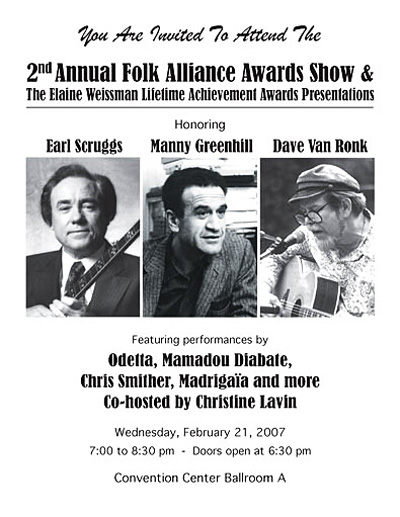 Memphis (Tennessee), USA – The North American Folk Music and Dance Alliance (Folk Alliance) announced banjo legend Earl Scruggs, blues revivalist the late Dave Van Ronk and manager/producer the late Manny Greenhill as recipients of the 2007 Elaine Weissman Lifetime Achievement Awards (LAAwards).
Earl Scruggs, Andrea Van Ronk (Dave's widow) and Mitch and Matt Greenhill (Manny's son and grandson) will be accepting the awards at the conference. The presentation will be made during the Folk Awards Show on Wednesday, February 21, 2007 at the Cook Convention Center. For information call 901/522-1170 or go to
www.folk.org.
"Named for the Folk Alliance's co-founder the late Elaine Weissman of the California Traditional Music Society, these awards are given to those who have inspired us, achieved definitive leadership in their field, and have contributed to the advancement of folk music and/or dance," said a Folk Alliance press release.
Each year the LAAwards honor two performers, one living and one deceased, and a person or institution involved in the business or academic side of the folk world, who have devoted their life's work and talent to the advancement of the performing folk arts.
"We are delighted to announce this year's stellar recipients," said Folk Alliance Executive Director Louis Jay Meyers. "On behalf of the board and the membership, it will be a great pleasure to make these presentations at our Memphis conference in February."
Living Artist Lifetime Achievement Award: Earl Scruggs
For many bluegrass began when Earl Scruggs joined Bill Monroe's band with his blazingly fast three-fingered picking banjo style. It quickly became and remains the standard for the true bluegrass banjo sound.
Earl's next endeavor, Flatt & Scruggs and the Foggy Mountain Boys, continued his fame and legend through work in films and television. From 1948 until 1969 Flatt & Scruggs and the Foggy Mountain Boys dominated the bluegrass field due to their residency on the Grand Ole Opry in Nashville yet that renown was dwarfed by their huge success in 1962.
In '62 they recorded the theme song for The Beverly Hillbillies leading bluegrass into mainstream American culture. That popular TV show led Flatt & Scruggs' long-time signature tune, Foggy Mountain Breakdown, to be chosen as the background music for the 1967 film Bonnie and Clyde. In 1969 Earl sought a more contemporary sound and split with Lester to make music with his sons and other musicians in Nashville.
Though it's been more than three decades since they broke up the music of Flatt & Scruggs and the Foggy Mountain Boys continues to define the bluegrass sound. The band was elected to the Country Music Hall of Fame in 1985. Earl Scruggs received the National Heritage Award in 1989, the highest honor given by the National Endowment for the Arts to folk and traditional artists.
Deceased Artist Lifetime Achievement Award: Dave Van Ronk
From his debut at the age of 21 in the Greenwich Village folk scene in 1957 and on, Dave Van Ronk built a reputation as musician, teacher and mentor becoming known as "the Mayor of MacDougal Street."
He did much to introduce black folk music to white middle-class audiences both in North America and abroad. His guitar arrangements, derived from the music and styles of Furry Lewis, Jelly Roll Morton and other early 20th century finger-style blues and jazz masters, were authentic.
Dave's early recordings on the Folkways and Prestige labels and his live performances introduced many young musicians to the blues, among them Bob Dylan. In later years Dave's repertoire ranged from traditional jazz to the songs of Bertolt Brecht and his own compositions.
He died in 2002. "In the engine room of the NY Folk Scene shoveling coal into the furnace, one Big Man rules. Dog faced roustabout songster. Bluesman, Dave Van Ronk. Long may he howl." –Tom Waits.
The Mayor of Macdougal Street is the title of a recent book with and about Dave Van Ronk by Elijah Wald.
Business/Industry Lifetime Achievement Award: Manny Greenhill
The late Manny Greenhill, originally a union activist, came to music after hearing Pete Seeger and the Almanac Singers in New York. He started presenting concerts in the early 1950's around Boston with artists such as Josh White, Pete Seeger and Odetta while also running an ad placement business in foreign language newspapers.
Manny helped to found the Folk Song Society of Greater Boston and in 1960 opened the Ballad Room, a part of the Cambridge folk music scene. He was on the board of the legendary Club 47. He started Folklore Productions in the late '50's which managed many young musicians, most notably Joan Baez with whom he worked for fourteen years. He also represented Doc Watson, Jesse Fuller, and Rev. Gary Davis, helping to ensure that traditional artists were well paid and their compositions well protected.
As Folklore Productions grew Greenhill established his office in Santa Mónica, California. This enabled him to keep a closer eye on the recording industry. He worked from there until his death in 1996.
Today, son Mitchell and grandson Matt run his company. Manny Greenhill loved telling stories about folk music, politics and how they were, in his view, inextricably intertwined. At the 1995 FA conference in Portland, Oregon, musician/producer Jim Rooney recorded Manny telling some of these stories. This has been preserved as part of the Folk Alliance's Oral History program.
The Elaine Weissman Lifetime Achievement Awards are a highlight of the Folk Alliance's annual conference. Founded in 1989, recently relocated to Memphis, the Folk Alliance seeks to create new and better opportunities for all those involved in the performance folk arts. With thousands of attendees annually, their conference offers a complete view of the business world of traditional and contemporary folk music and dance through showcases, educational seminars, films, and a networking-rich trade show.
The final nominees for the Second Annual Folk Alliance Awards are:
SONG OF THE YEAR
"Bring Them Home", Burns Sisters
"People Look Around", Catie Curtis and Mark Erelli
"Seems So Real", Chris Smither
"Pony", Diana Jones
"Folk Is the New Black", Janis Ian
TRADITIONAL RELEASE OF THE YEAR
Bruce Springsteen – We Shall Overcome – The Seeger Sessions
Crooked Still – Shaken by a Low Sound
Les Tireux – Roche Papier Ciseaux
Madrigaia – Pleiades
Pine Leaf Boys – La Musique
CONTEMPORARY RELEASE OF THE YEAR
Dave Carter and Tracy Grammer – Seven Is the Number
Greg Greenway – Weightless
Jeffrey Foucault – Ghost Repeater
John Gorka – Writing in the Margins
Wailin' Jennys –  Firecracker
TRADITIONAL ARTIST OF THE YEAR
Guy Davis
James Keelaghan
>Natalie MacMaster
Odetta
Old Crow Medicine Show
CONTEMPORARY ARTIST OF THE YEAR
Chris Smither
Darrell Scott
Greg Brown
Janis Ian
Wailin' Jennys
EMERGING ARTIST OF THE YEAR
Amy Speace
Anais Mitchell
Crooked Still
Diana Jones
Pat Wictor
WORLD MUSIC ARTIST OF THE YEAR
Kiran Ahluwalia
Lache Cercel and His Roma Swing Ensemble
Lila Downs
Mamadou Diabate
Marisa Monte
FOLK BOOKING AGENCY
Fleming Artists
Folklore Productions
The Granata Agency
Mongrel Music
Roots Agency
SMALL FOLK VENUE (under 250 capacity)
Cactus Cafe, Austin, Texas
Cafe Carpe, Fort Atkinson, Wisconsin
Caffe Lena, Sarasota Springs, New York
Club Passim, Cambridge, Massachusetts
Hugh's Room, Toronto, Ontario
LARGE FOLK VENUE (over 250 capacity)
The Ark, Ann Arbor, Michigan
The Birchmere, Arlington, Virginia
Cedar Cultural Center, Minneapolis, Minnesota
Iron Horse Music Hall, Northampton, Massachusetts
Old Town School of Folk Music, Chicago, Illinois
FOLK FESTIVAL
Falcon Ridge Folk Festival
Kate Wolf Memorial Music Festival
Kerrville Folk Festival
Philadelphia Folk Festival
Winnipeg Folk Music Festival
FOLK DJ
Dick Pleasants, WUMB
Gene Shay, WXPN
Rich Warren, WFMT
Susan Forbes Hansen, WHUS
Suzanne Millsaps, KRCL
In addition to producing the annual international conference, the Folk Alliance provides year-round services including arts advocacy for the field on a regional and international basis, an online music business directory, newsletters, classes, workshops, and regional events.