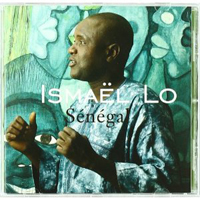 Ismael Lo
Senegal (Wrasse Records WRASS 183, 2006)
I'd almost forgotten how good this guy is. Sure, Ismael Lo has released music since the last album of his that I bought (1994's Iso), but for no good reason I lost touch with his goings-on. While Lo's new CD (helpfully named after his home country, though there are differing accounts of where and when he was born) came to me completely by surprise, the quality of it comes as no surprise at all.
Senegal (the country, not the album) has birthed many musical greats, from veterans like Youssou N'Dour to such up-and-comers as Daby Balde. Lo's acoustic guitar-and-harmonica-wielding place among those greats has at times gotten him pegged as a sort of African Bob Dylan. Of course, there's more to Lo than easy, Westernized labeling, and Senegal (the album, not the country) shows his many sides.
Lo's past music has often been more about melody than beat. Still, this disc has a few m'balax-like chargers that invite favorable comparisons to N'Dour, all the more so because Lo's often restrained voice does some genuine soaring here.
As expected though, it's Lo the balladeer we're mainly treated to. Acoustic guitar and strings (synthesized but sounding pretty good) sweeten many of the tracks, including the meditative opener "Baykat" and the following "Incha Allah." Things get more varied on "Tass Yakar," which goes from tart twang to a reggae feel. Reggae shows up again on "Le Jola," with lyrics bespeaking Senegal to a beat that's pure Jamaica, and "Plus Je Fais Ci, Plus Je Fais Ca" as the Francophone flair of the vocals sways perfectly with the one-drop pulse.
"Wakhal" tosses a flamenco feel into its chunky beat, the scrambling horns and percussion of "Jiguen" get the blood pumping and by the time of the concluding "Tajabone," everything is back down to earth and beautiful. Make no mistake- this Dakar, Paris and London-produced disc is more African pop than African roots (apart from some prominent sabar drums, traditional instruments are absent). But it's marvelously crafted Afropop that's expertly arranged, played and sung. Highly recommended.
Buy the CD:
Author:
Tom Orr
Tom Orr is a California-based writer whose talent and mental stability are of an equally questionable nature. His hobbies include ignoring trends, striking dramatic poses in front of his ever-tolerant wife and watching helplessly as his kids surpass him in all desirable traits.