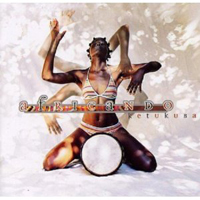 Africando
Ketukuba (Stern's Africa STCD 1103, 2006)
In my snobbish opinion, the scantily-clad young woman on the cover of this CD should be astride a conga drum and not a djembe. So much for complaints.
Ketukuba is yet another brilliantly burning album from the masters of African salsa. As has become customary, the lead vocals are shared among singers who've graced Africando's previous recordings (Sekouba Bambino, Medoune Diallo, Amadou Balake, Joe King), some fresh blood (Basse Star, Pascal Dieng) and one surprising guest choice (Congolese great Madilu System).
Sadly, this disc also marks the swan song of the late Gnonnas Pedro, a key part of the Africando front line since 1995. The guts and glory of his Benin-born voice will be missed,
but it's evident that the group will continue to swing regardless. Their combination of West African roots (the singing is mostly in Wolof this time), salsa sizzle and just enough urban sophistication borrowed from Dakar, Paris, Havana and New York remains impeccable.
Each track is a hook-laden wonder, with particular standouts being Dieng's "Malawoo" and
its melodic references to Etoile de Dakar's "Esta China," Madilu System's hard-charging reworking of Franco's Congo classic "Mario," the balafon lead-in that launches the intensity of "Viens Danser Sur Le Son Africando" (an offer you can hardly refuse), the suave "Sagoo" dripping with tres riffs and the affirming of Afro-Cuban solidarity on the title track.
For well over a decade Africando has been proclaiming salsa to be every bit as African-founded as the many other styles associated with Latin America. Here they prove it yet again. And even if you don't need the proof, you need this CD.
Buy the CD in:
Author:
Tom Orr
Tom Orr is a California-based writer whose talent and mental stability are of an equally questionable nature. His hobbies include ignoring trends, striking dramatic poses in front of his ever-tolerant wife and watching helplessly as his kids surpass him in all desirable traits.