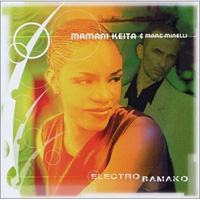 Mamani Keita & Marc Minelli
Electro Bamako (Palm Pictures)
As anyone can see from viewing this site or any publication geared towards world music, Malian music is hot. This summer the Smithsonian Institute Folklife Festival will be highlighting musicians from Mali and ample releases of Malian music have hit stores across the globe. The variety of artists and sounds flowing out of Mali proves endless and the list includes Tuareg music from the Sahara Desert, pop artist mixing and matching with traditional Malian musicians with a keen eye for the past and one foot in the future. As one ethnomusicologist pointed out, music is a living art that keeps on evolving and we can certainly see this happening with Malian music. The world might be shrinking, but music is expanding and creeping over borders.
When journalists focus on Malian music they often mention Mali Music, a CD produced by Damon Albarn, a questionable talent with an earnest passion for Malian musicians. However, Mali Music has just been eclipsed by another cross culture release, Electro Bamako created by the duo, Malian vocalist Mamani Keita and French electronica artist Marc Minelli. Perhaps, Albarn's overambitious Mali Music would have sparkled in the same manner as Electro Bamako if Albarn had focused on a smaller group of musicians. As it was, Mali Music didn't gel and received too much publicity even before the paint dried on that project. Electro Bamako, now being released in North America was actually produced a year or so before Mali Music and while the two CDs draw comparisons because of the Euro pop-African fusion, Electro Bamako can stand on its own and then some.
The project came about when Paris based manager Marc Antoine Moreau suggested that Marc Minelli unite his computer adventures with the incredible vocal talent of Mamani Keita, mostly known as a backup vocalist for Salif Keita. The artists met, talked about the venture and then went their separate ways. Mamani recorded 10 bare bone tracks with vocals and Dielly Moussa guitar and she sent the tape to Minelli who later added loops, samples and instrumental tracks. The end result marries jazz (bop), reggae-ska rhythms, funk and traditional bambara vocals. Sometimes the tracks sound like rock music while at other times exude the elegance of American jazz. Minelli insisted on composing songs with a pop structure of verse-chorus-verse often found in old jazz standards, rock, folk or classic blues. What sounds like an impossible dream actually points to a musical utopia that blends the best of all worlds.
A sexy trumpet croons along side rock rhythms on Laydou. DJonni highlights reggae-ska bass along with Malian guitar. The ballad Nani with its clarinet and sweet vocals lulls listeners with its stunning beauty. Si Gui Te Mogoson includes Dielly Moussa on guitar and Lassina Kouyate on balafon. N'Ka Willy, Abdoulayi Djodo and Macary swing to a bebop attitude. A wailing sax and Mamani's vocals engage in a friendly battle on the later track. Each track flows wonderfully into the next, creating a holistic union between modern technology and traditional music and various musical genres.
Electro Bamako is more than a sum of its parts. The album presents a unique musical adventure with enough musical depth to pleasure the senses even after multiple listens. Often the essence of folk roots music is lost within the din of modern times, but given the right sensibility, a marriage between the bambara tradition and computer technology can allow both sides to shine.
This archival review by Patty-Lynne Herlevi formerly appeared on Cranky Crow World Music.
Buy Electro Bamako.