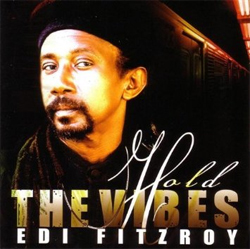 San José (California), USA – Edi Fitzroy, long time conscious reggae veteran's new album release Hold The Vibes, on rising Northern California
record label King Step Recordings has been in the works for almost a decade and is being compared to many of his best records.
The album features a classic acoustic vibe and superb vocals that are sure to last the test of time. It displays a conscious, explosive and energetic Edi
Fitzroy. Edi has made his impact in the music industry with his songs of consciousness, and his new release "Hold The Vibes" continues the formula that has propelled him all these years.
Hold The Vibes is featured in the top 20 albums in rotation (club & radio) as of December 18, 2006. The CD can be heard on the radio in Jamaica, the Caribbean, Florida, California, New York, Baltimore, Virginia, Portland, Nevada, Colorado, Washington, Vermont, Maine, Massachusetts, UK, Canada, Australia, Satellite radio and soon the planet. You can also hear it featured on BigUpRadio.com.
Hold The Vibes can now be purchased in more than 70 stores. The CD is expected to be in more than 100 stores nationwide in the United States by the beginning of 2007. Here is a short list of stores where you can find Edi Fitzroy's new album now:
Music Millennium – Portland, OR
Bop Street Records – Seattle, WA
Zion's Gate Records – Seattle, WA
Boo Boo Records – San Luis Obispo, CA
Everyday Music – Portland, OR, Seattle WA, Bellingham, WA
Amoeba Music – Bay Area and Los Angeles, CA
Wisdom Records – San Francisco, CA
Trade Roots Reggae – San Diego, CA
Silver Platters – Seattle, WA
Wild Planet- Ventura, CA
Independent Records – CO
Mad About Music – Lake Tahoe, CA and Reno, NV
Newbury Comics – MA, Vermont, NH, Maine, CN
Rasputin Music – SF Bay Area
CD Willy's – Maynard, MA
Street Sounds – Los Angeles, CA
King Step Recordings (KSR) has signed with the Independent Online Distribution
Alliance (IODA) to digitally distribute Hold The Vibes. Singles and ring tones
from the CD can be purchased online everywhere as of January 1, 2007.
Here are the top 10 places to find digital singles and ring tones from Hold The
Vibes:
Verizon V-Cast
listen.jp/store, Listen Japan
Musicnet (Yahoo, HMV, Virgin Digital)
musicnow.com (AOL)