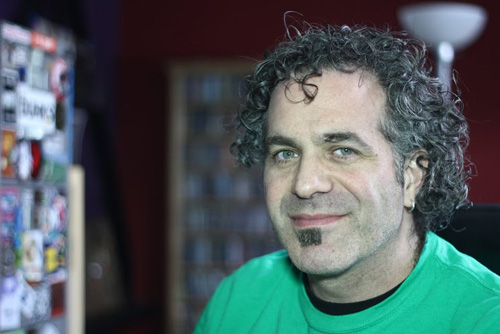 Dmitri Vietze runs rock paper scissors, a publicity company that specializes inworld music. In a short period of time, Vietze's firm has become one of the leaders if promoting world music. World Music Central interviewed Dmitri Vietze for its World Music Profiles series.
For those who don't work in the recording industry, what does a music publicist do?
As a music publicist, I act as a bridge between our clients (musicians, record labels, music festivals, music websites, music-related authors, etc.) and the media (newspapers, magazines, national radio and television programs, webzines, blogs, etc.).
We start by crafting the most compelling message we can about the client's project. Usually, we interview the client before writing the press release. The press release becomes the primary document from which we work, so we try to include many different angles and "pitch points" to our story.
e compile a mailing list of media targets. Some of these include "regular suspects"–outlets who we know from the past cover globally-minded music projects. And some include special targets suited for the individual project. We then mail out the press release (usually with an album) and then pitch the media contacts by telephone and email. We also launch an online press kit for each publicity campaign so that the media can can find everything they need to write a successful story with a click of the mouse.
Beyond that, with very popular artists we do a lot of "traffic control," working with the artist's manager to get their priorities met. Sometimes they cannot do every single interview, especially when a touring schedule leaves them little down time. Scheduling interviews in itself is an art. And we advise our clients along the way on publicity-related and other marketing issues.
In a short period of time, your company has become one of the top publicity firms for world music. How did you achieve this?
I think largely we have been successful through our consistency, hard work, and effective use of technology. I have equal passions for entrepreneurship and global cultures and music forms. I think that's not a very common combination, as many people who are interested in global cultures in an authentic way often shy away from for-profit, entrepreneurial ventures.
From the beginning I've created a brand for our company. We represent high quality music and represent the diversity of the many forms that fall under the "world music" category. We turn down at least half of the potential clients that approach us.
The media seem to appreciate the filtering we do for them and have come to expect to like and cover a lot of what we send them. They also seem to appreciate our approach to writing a pitch and our gentle but consistent approach on the phone and in email.
We avoid hype and high pressure and have developed ourselves as a resource, rather than an adversary. We are now go-to people for the media. Every week someone calls to tell us what story they are working on and what do we have to help them with.
Sometimes we act like a SWAT team doing whatever we can to help a journalist… and oftentimes we have a current, recent, or upcoming client that fits into their story. Any journalist that has worked with us regularly knows we will move mountains to serve them. Many of them call us when they have last minute cancellations or if they are leaving in an hour to travel across the world and need a contact. This has helped us build great relationships which in turn helps us secure coverage for our clients. And our clients see the results and come back to us time and time again and refer us to others.
Other reasons for success are pretty much basic business skills. Though I cannot claim tech geek status, early in my career I got to work with some smart and flexible database programmers. I found out the capability of databases and I have always pushed myself and programmers we have hired to make the databases work well for us. I try to get along with people of all types which has served me with journalists, clients, and employees. I love what i do and that rubs off on people. I also work a lot of hours each week and I do not need much sleep.
What past promotional projects did you enjoy the most?
I find that most of the projects I work on have some nugget of wisdom that I absorb and learn from. Listening to Cuban songwriter Pedro Luis Ferrer speak — even through a translator — blew me away. He speaks in such thoughtful and poetic ways. He dances around touchy questions about the Cuban revolution where you know what he is saying without him jeopardizing himself. Speaking with Sara Tavares is an amazing experience. Whether she is talking, or she is performing, or autographing CDs, she exudes a warmth that everyone can feel.
One project that I really enjoyed working on was the Nonesuch Explorer series. The pivotal series began on vinyl long before I was involved with the music business, but about five years ago they decided to re-release the entire series on CD with new beautiful packaging and organized by region. I got to talk with some of the early producers of one of the major waves of "world music" recording. And I was very happy with the press release I wrote titled "Tribal Music, a Copper Phonograph, and a Space Ship: The Past and Future of the Nonesuch Explorer Series". They still have it on the Nonesuch website. Working on that campaign was one of the early signs that I had reached pretty significant success within this field. But just as important was that I was having a blast.
Another project that was very fun was Seu Jorge, the Brazilian singer. His Wrasse album Cru is great and very accessible. Since he had just appeared in Wes Anderson's The Life Aquatic with Bill Murray, a lot of media doors opened up. So that one was fun because that is how more of our projects should be in terms of interest level. It demonstrated that Americans (and the media tastemakers) do like global music, they just need to have an entry point. I try to create those entry points every day… but the power of Hollywood unlocks doors. It was fun to get through to outlets that typically do not respond to anything outside of the pop realm. I am happy every time there is a breakthrough like that as I think it gradually builds more fans for global music forms.
What artists are you promoting now?
As usual, we're all over the map. Bole2Harlem is a concept album that combines traditions and sensibilities from Ethiopia with hip hop and other music forms from Harlem. It's very catchy and is set to blow up. NPR, Village Voice, XLR8R, WNYC… they are all over this album. It's one of those projects that can bring in core global music fans as well as the hipster crowd and everyone in between. And at the same time they speak to an ex-pat community that is seeking out music and culture that represents their dual culture experience, their longing for home and appreciation of their new home. It's very much modern American music with a global perspective.
Hazmat Modine is fronted by two harmonicas and backed by a tuba. They're influenced by Balkan brass bands, calypso, and, of course, blues. Whereas a lot of bands would take such diverse influences and make a mess out of them, Hazmat develops catchy melodies with great grooves, and compelling lyrics. They are indefinable and I think will eventually be a pretty big name in the mainstream music scene as well.
Andy Palacio has an amazing album coming out in the spring and has a great story to tell. His music is as rich and soulful as the best Buena Vista Social Club recordings, but he comes from the Garifuna people of Central America. A couple of hundred years ago a ship full of African slaves crashed and the Garifuna are the descendants of escapees from that ship. They have an amazingly rich culture with strong African and Amerindian roots, with their own language (which is now in danger of disappearing). Palacio is a cultural ambassador–literally as he holds a government-related post in cultural preservation and lectures and performs at UN events, etc.–and the work he does with the Garifuna Collective is both compelling and simply great acoustic music.
We also work with some very exciting non-artist clients like globalFEST–a New York City festival of 12 artists in January–and National Geographic–who recently launched a gorgeous world music MP3 website.
You are also very concerned with promoting the professional aspects of world music. Can you tell us about the newsletter?
I recently started DubMC as a sort of trade journal for "world music" professionals. After attending several conferences regularly (WOMEX, Arts Presenters, SXSW, Folk Alliance) and after several years in the field, I realized that I have a lot of connections and ideas that I could share beyond the scope of my day-to-day work as a publicist. I have found over the years that there are very few sources for information about the business side of "world music." It rarely shows up on the radar of Billboard magazine and the few other music trade magazines, and Global Rhythm, The Beat, Songlines, and FRoots are oriented towards the fan more than the industry and professional field.
Your site obviously has a foot in the fan side and a foot on the industry side, but I think we take a slightly different approach and have not tried to be as broad as World Music Central. DubMC is not about announcing or reviewing album releases or tours.
We have surveyed world music record label executives about the fall of Tower records, we explore topics related to how digital distribution is affecting the world music business, and we profile world music festival directors, record industry veterans, and experts within specific ethnic communities. A recent article on the Long Tail of world music spurred quite a bit of conversation in the online community. Your readers may subscribe to the free DubMC newsletter at http://www.feedblitz.com/f/?Sub=92225 (FeedBlitz manages our newsletter service). It's a great way to keep up with world music industry news and ideas.
Another organization you are involved with is an organization called the World Music Coalition. What is the World Music Coalition?
I helped to start the Coalition with several other professionals in the world music scene. We have been working on it for several years informally, but finally formalized efforts about a year ago. The idea is that if we can create channels and forums for communication and collaboration across the world music field, including active members from all roles in the industry, we can work together to increase the visibility and viability for the scene as a whole.
What initiatives is the World Music Coalition working on?
So far the Coalition has been increasing visibility at industry events such as organizing an annual preconference at the Arts Presenters conference in New York or hosting a stand at WOMEX to show th presence of North Americans at the event. Certain spin offs from the Coalition–though not formally tied to it–include globalFEST, the annual world music showcase during the Arts Presenters conference, and the All Music is World Music showcase at SXSW.
The Coalition also puts out a newsletter every month or two announcing what artists are looking for tour dates in certain time frames and markets, and other industry news announcements. The Coalition also just announced a Seed Grant program offering $500 grants to individuals who have a project that help the Coalition accomplish its mission.
Is such an organization necessary in North America?
I do not think it is necessary, but like any coalition it has the potential to unite efforts and increase momentum by uniting otherwise dispersed efforts.
This year, two world music labels, Narada and Palm Pictures, closed their offices in the United States. How do you see the future of world music?
I have no doubts that the future of world music is very strong. Demographic shifts in America mean that the potential audience for world music will likely continue to grow. Whether the record label model will continue to be a viable one for artists and producers to make a living or profit remains to be seen.
At the moment, a lot of evidence points to the idea that musicians and content producers and curators may have to give away a lot of music and figure out additional income streams. But the music itself will thrive more than ever. I believe live concert sales are up, music is becoming more and more a part of the TV and film industry, and the publishing and licensing side of the music biz continues to evolve in compelling ways.
Some record labels are expanding their marketing and distribution in innovative ways to adapt to the shifts in digital distribution. And entirely new categories of companies–some of which are hybrids of aggregators, retailers, booking agents, and record labels–are emerging. Certain forms of collapsing of different roles into one company may become new successful models.
What national and international conferences would you recommend to world music professionals?
WOMEX. This is THE world music conference to attend. It takes place every year in Europe, oftentimes revolving which city hosts it. Lately it has been in the beautiful city of Sevilla. This is a must-attend for anyone serious about doing business in world music in Europe and North America.
Arts Presenters. Anyone involved in booking needs to attend this one. But there is also a growing presence of world music content at this annual event including a full day of world music panels/discussions the Friday before the conference and with the piggybacking of globalFEST during the conference.
Folk Alliance. There is always a "world music" presence at this event, though it is not the main strand. For the informal hotel room showcases and great camaraderie between musicians, this event cannot be beat. If your work crosses over between world and American roots music, this is a great event for you. I hope that some day WOMEX can try out this type of vibe. Or that Folk Alliance tries another heavy world music focus again some year soon.
SXSW. As many of us in the world music scene try to break world music out of its "ghetto," SXSW increases in importance. It is unbelievable music choices night after night and has a more progressive technological bent than many for the other events. Many of the bands that play there are international and cross-cultural (a huge Latino presence) but they do not refer to themselves as world music. But all music is world music, and there is a showcase of that name worth checking out too.
Latin Alternative Music Conference. Kind of like a Latin SXSW. I have not been yet, but I want to.
How's life in Bloomington, Indiana?
It's easy going with lots of great local cultural resources. It is very easy to immerse yourself in the local community. People are very receptive and the points of entry have few barriers. There is little traffic, easy parking, no lines, lots of free stuff to do, beautiful natural surroundings, and really friendly open-minded and thoughtful people.
By Midwestern small town standards the restaurant choices are amazing. We have two Tibetan restaurants, two Turkish restaurants, several Thai and Indian options. There are three or four international markets. And a great weekly farmer's market with live music and great produce.
The mayor just launched the Bloomington Entertainment and Arts District with plans for a recreation and arts trail through town in the works, and there is a growing technology sector. Obviously there are a lot of great resources through Indiana University (though sometimes there is a bit of a "town and gown" divide in terms of information sharing).
If a world music fan visited Bloomington, what would you recommend?
I call Bloomington "The World Music Capital of Rural America." We're not really rural, but most people outside of Indiana think we are. First of all, come during the Fall when Lotus Festival is on. It's an amazing pioneering small town festival. Artists are high quality and the festival is very accessible allowing you to get from venue to venue as the whole town is taken over by the festival. Director Lee Williams is an opinion leader of Bloomington's music scene as well as becoming a recognized leader throughout the country for developing a strong grassroots supported world music festival under unlikely small town conditions.
Turn on WFHB [91.3 FM] — the oldest community radio station in the state of Indiana. Program director Jim Manion is known throughout the community radio world for his great programming. They have great eclectic music programming most of the time which mixes world music with a lot of other genres, as well as specialty world music, Native American, and Nordic programs (and the Putumayo World Music hour). The I.U. station WFIU [103.7, 95.1, 106.1, and 100.7 FM] also features Afropop Worldwide and the Thistle and the Shamrock. The cable access TV station regularly rebroadcasts Lotus Festival concerts from previous years.
On the I.U. [Indiana University] campus check out the Mathers Museum. They have an unbelievable collection of musical instruments from around the world (and the ethnomusicology program is one of the leaders in the field). The Archive in Traditional Music is second in size only to the Library of Congress. There is also an Archive of African-American Music on campus.
Check out what is playing at the Buskirk Chumley Theater, a beautifully restored historic theater. They often have world and folk acts. So does the Waldron Arts Center. Look out to see if our local Middle Eastern band Salaam is playing. They are top notch, and their viola player recently toured in Youssou N'Dour's band.
Local Irish flutist Grey Larsen plays great house concerts periodically and that is a great treat. Also keep an eye on Wonderlab, the amazing two-story children's museum. The director of exhibits is a musician and builds some cool instruments and schedules musicians to do demonstrations a few times each year.
Where were you born?
Nashville, Tennessee.
What is your favorite meal?
Thai green curry and Tibetan mo mo
What music are you listening to these days?
What do you like to do during your free time?
Ha, haaaa. I'll let you know hen I get some. Actually, when I am not working, I am hanging out with my family. We take walks, make crafts, play guitar, and practice spelling. And we dance, dance, dance.
What country would you like to visit?
Mali.
Which is your favorite city?
New York.
What was the first big lesson you learned about the music industry?
There are people who do it for the money and could be selling any widget. There are people who do it for the music and do not care about money. There are few people who do it for the music and know how to make a living at it. You can do both (love the music and make a living). Consistency is important. Those people who everyone looks up to as music veterans mostly just do what they do well, one step at a time. Focus on the details. Add value. And over time your momentum and reputation will follow.
Author:
World Music Central News Department
World music news from the editors at World Music Central