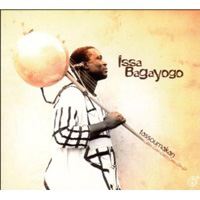 Issa Bagayogo
Tassoumakan (Six Degrees Records)
When I first encountered world electronica fusion, I felt at home with it. Then over the course of a few months, I grew tired of the formulaic electronic beats and cheesy synthesizer that predominated so many contemporary world music recordings. However, I would have to say that Issa Bagayogo of Mali has performed a superb job marrying electronica with traditional Malian fare. In fact, there are moments when I can't even detect programming because the soft edges between contemporary and ancient music of the Manding kingdom and Wasulu hunters (mentioned in the press release), blur into one another creating a delicate, yet bold fabric.
I wouldn't call the songs on Issa's third Six Degrees Record release, Tassoumakan, ultra-modern nor would I call them ancestral. Issa walks a fine line between the two, dropping in on the future and the past, but mostly remaining in the moment.
While I listened to Tassoumakan, I found the recording moody and the perfect companion for a hot and lazy day or for that matter, I could see listeners basking in the cool glow of this album on a hot midsummer night. While other journalists have mentioned a club connection to this CD, I think it lends itself to a variety of situations from hanging out on a beach, to a dinner party with good friends or for chilling out at the end of a long day.
ost of the songs meander to a slow groove with Malian signature instruments such as a 6-string version of the n'gnoni (lute), kora, flute and balafon. Then western instruments such as blues guitar, bass, keyboards and electronic percussion fill in the musical gaps. Issa's vocals are gruff rather than soaring, but this just adds a nice touch to the musical atmosphere that has been carefully rendered here. This is topped off by sensual female vocals, often in a call & response format and Malian guitarists, Karamokou Diabate and Mama Sissoko who also make fine appearances on this disc.
While some listeners might bring up a comparison to the Afro-European electronica CD, Electro Bamako by Mamani Keita and Marc Minelli, the artists take two different approaches with the fusion with Malian music and electronica. The two CDs however, could compliment one another despite their differences. I am sure that some folks would argue that Issa's albums are more mature and heady than Electro Bamako and they would make a valid point.
Issa possesses a surefootedness on this album, almost as if he has carefully mapped out the terrain. He doesn't come across as someone who's experimenting with a music that he has just discovered, (as was the case with Marc Minelli, who by the way did a fine job with Electro Bamako), but someone that has been immersed in both traditional Malian and western genres for some time. This is evident on the tracks, Kanou which features blues guitar with slices of kora and piano (keyboards), the opener, Ciew Mawele which sounds a mainly acoustic, Joola which brings in just about everything from the ocean surf, gorgeous female vocals and guitars and finally, Dya with its haunting flute and gentle flowing rhythms.
I do not foresee myself jumping off the deep end and embracing electronica music. However, I know a good sound when I hear it. Issa Bagayogo's Tassoumakan is just the right ticket for this steamy midsummer's day. And who knows, I might still be listening to this disc when winter arrives.
This archival review by Patty-Lynne Herlevi formerly appeared on Cranky Crow World Music
Buy Tassoumakan.