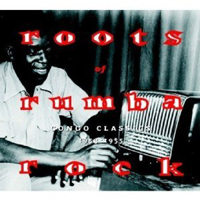 Various Artists
Roots of Rumba Rock: Congo Classics 1953-1955 (Crammed Discs CRAW 33, 2006)
If the thought of two CD's worth of Congolese rumba more than half a century old interests you (and it should), you probably don't need a history lesson about mid-20th century Congolese musicians hearing Cuban music, recognizing how very African the rhythms were and rightly reclaiming them for use in their own music.
The biggest difference was that the central role played by the piano in certain Afro-Cuban music was translated to the guitar (including the newfangled electric kind) when that same music was brought back to its African origins. And since it's been widely asserted that those piano patterns were based on the plucked metal-and-wood sounds of the African likembe to begin with, things had come even more full circle.
Guitars are the main instrument you hear in these old-sounding but perfectly wonderful 40 tracks, along with some small percussion and an occasional horn or accordion. The call-and-response vocals have a sincere intimacy that modern recordings often fail to capture and the songs, sung largely in the Lingala language, are shortish charmers that make even the most off-the-cuff subject matter (like a ditty about margarine) sound rather magical.
I'm no kind of expert on Congolese rumba, so most of the artists here (with such exceptions as legendary guitarist Franco in his very first recording as a sideman) are obscure to me. But the popularity they apparently enjoyed in their heyday was obviously well-deserved. Hard to believe, given the beauty of the music, that the Congo was under iron-fisted Belgian control at the time. Fortunately, the colonizers were too boneheaded in their ruthlessness to realize that popular music has a way of becoming subversive, particularly in this instance of Africa reinventing Africa.
Congo went on to become an independent country beset by problems to this day, but just importantly continued to be the creative center of the rumba style that's still championed by masters like Kékélé. Released as two separate CDs a while back, this reissue assembled by Vincent Kenis (producer of the Congotronics series) is absolutely essential.
Buy Roots of Rumba Rock: Congo Classics 1953-1955
Author:
Tom Orr
Tom Orr is a California-based writer whose talent and mental stability are of an equally questionable nature. His hobbies include ignoring trends, striking dramatic poses in front of his ever-tolerant wife and watching helplessly as his kids surpass him in all desirable traits.