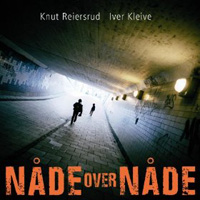 Knut Reiersrud and Iver Kleive – Mercy Mercy / Nåde Over Nåde (Kirkelig Kulturverksted, 2006)
Knut Reiersrud – Pretty Ugly (Kirkelig Kulturverksted, 2004)
I have been following the work of Norwegian blues artist, Knut Reiersrud ever since I heard a track of his that appeared on The Rough Guide to Scandinavia.
Knut, a regular on the Norwegian Kirkelig Kulturverksted label, if not one of the label's stars, is a musician's musician. He plays several instrument extraordinarily well, knows American blues from the inside out and performs various genres of music. So it comes as a huge mystery to me why this talented player and imaginative mind hasn't gained much ground in the U.S. His repertoire deserves to be in record collections here and on the radio airwaves.
Mercy Mercy / Nåde Over Nåde marks the third recording by the duo, Reiersrud (guitars and vocals) and Iver Kleive (organ). The duo's 1991 Blue Chorale (Blå Koral) with its "exalted organ music juxtaposed with down-to-earth guitars," won a Norwegian Grammy Award. It sold 34,000 copies in Norway.
The duo's 1996, Nave sold 21,000 copies. Mercy Mercy which features multiple personalities of organ and guitar will no doubt capture the hearts of its Nordic listeners. Hopefully, international listeners too.
The label calls the recording "visionary" and I would have to agree. Recorded at St. Knud Cathedral in Odense, Denmark, the music on the album explodes out of the speakers. From lyrical passages played on the guitar coupled with fanciful circus-like organ, to down-and-out rambling blues played on pedal-steel and electric guitar coupled with Phantom of the Opera organ, (or is it Hunchback of Notre Dame? I confuse the two). The power guitar version of What a Wonderful World (George Douglas), is a kick too.
The musicians explore many moods here while showing us the vast range of their respective instruments. Reiersrud brings in 8 guitars which converse with the Marcussen organ. And for those of you into recording techniques and logistics, "In part the boldness and contrasts has been amplified, and in part the expert recording by Alf Christian Hvidsteen has enhanced the sound in the vast space inside the Odense Cathedral." To call it "atmospheric" is an understatement. You might feel like you have just stepped into a vast Cathedral while listening to this recording. The organ vibrates underneath your feet and in your heart, a psycho-acoustic experience you don't want to miss, unless of course, you are frightened by organs played at full throttle.
(The following review was posted on Cranky Crow World Music in 2004. I thought I would include it along with a review of Knut Reiersrud and Iver Kleive's Mercy Mercy / Nåde Over Nåde.
Norwegian blues musician, Knut Reiersrud wears many hats, literally. According to the liner notes that accompany his new CD, Pretty Ugly , the multi-instrumentalist's taste in hats falls on the outlandish side of the tracks including a golf hat with a huge tassel which Knut wore to the Norwegian Grammy Awards ceremony and a fur contraption that he wears on the cover of his latest CD.
Obviously this musician marches to the beat of an unusual drummer and on the recording, Pretty Ugly, Knut is the drummer, the guitarist, pianist, harmonica player, bassist, etc…That's right he's a one-man band with the talent to burn. And the collection of blues classics and original songs that appear on Pretty Ugly burn, groove, grind, bump and jive. In fact, as far as I can tell, there's not an ugly song in the lot. It's all pure catharsis. It's what the blues is all about, here and as far away as Norway, where for a good portion of the year, Norwegians literally live in darkness.
But Knut's not singing about snow, freezing weather or darkness. He actually seems to be enjoying himself, exploring blues classics by the likes of Willie Dixon and other American blues and soul artists. I was surprised to hear, the psychedelic-soul tune, Strawberry Letter 23 floating off this disc. I recall buying the 45 for this song when I was a teen and even then it was one of those guilty pleasures. The song sparkles here with shimmering glockenspiel and Knut's pop arrangement. It's still a guilty pleasure, but also a delight to find on this disc. Other highlights include, Willie Dixon's saucy Too Many Cooks and You Can't Judge a Book by the Cover by the same blues man.
Knut's original songs, Is My Living in Vain, Tiramgoor, Sailing for the Moon and Holy Joe's fall into what could be labeled ambient blues. It's a style that Knut invented and can be found on his numerous recordings including Sweet Showers of Rain and Tramp. Rubber & Glue is the exception to the rule and it features a roadhouse blues style. Overall, this is the sort of album we would expect from a musician that plays 10 varieties of string instruments, drums, percussion, piano, organ and other instruments well and in some cases with virtuosity. It's too bad, the American music industry hasn't caught on to Knut's musical talent.
Buy Mercy Mercy / Nåde Over Nåde and Pretty Ugly
Compliments of Cranky Crow Whole Music
Author:
PatriciaHerlevi
Patricia Herlevi is a former music journalist turned music researcher. She is especially interested in raising music consciousness. She is looking for an agent and publisher for her book Whole Music (Soul Food for the Mind Body Spirit). She founded and hosts the blog
The Whole Music Experience and has contributed to World Music Central since 2003.