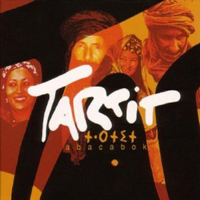 Tartit
Abacabok (Crammed Discs Craw 34-P, 2006)
The first and second tracks on this CD give you a pretty good idea of the two worlds Tartit is seeking to straddle. Listen to the opening "Tabey Tarate" with its traditional lutes, drums and muezzin-like vocals, and you can almost feel the heat and visualize the Saharan expanses that many of the nomadic Tuareg people call home. Then listen to the smoother, more electrified "Ansari," and you'd swear you were hearing an uncredited Tinariwen song. And so it goes for the remainder of the album.
A band comprised of Malian Tuareg men and women (the women doing percussion and most of the vocals and the men primarily handling stringed instruments), Tartit laid down these songs both in the city of Bamako and in the desert around Timbuktu. But the result isn't musical schizophrenia. It's a band playing to dual strengths without dichotomy, and if that means adding a bit of modernization to hypnotically rolling drum patterns, hand claps, sandy-sounding lutes and possessed vocals that seem to be lifting jinn spirits up out of the surrounding dunes, so be it.
Producer Vincent Kenis, who brought the joys of Congotronics to the wider world, leaves Tartit's rough edges intact, giving the desert roots the benefit every time and letting the disc rumble along with unspoiled beauty. Tartit have it both ways on Abacabok and sound absolutely spot on.
Author:
Tom Orr
Tom Orr is a California-based writer whose talent and mental stability are of an equally questionable nature. His hobbies include ignoring trends, striking dramatic poses in front of his ever-tolerant wife and watching helplessly as his kids surpass him in all desirable traits.