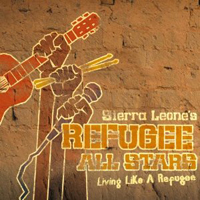 Sierra Leone's Refugee All Stars
Living Like a Refugee (Anti Inc., 86837-2, 2006)
"Living like a refugee is not easy," sing these guys on their disc's title track, and calling that an understatement is an understatement. Their story has been grippingly told in the mainstream and global music media, rock and rap stars have championed them and they survived a brutal, diamond trade-fueled civil war to make an album of healing music.
Given the extent of the tragedy in Sierra Leone, where eleven years of conflict between the government and rebel forces left countless people dead, cruelly disfigured or displaced, you couldn't blame the Refugee All Stars if they chose to sound pissed off and hell bent on making somebody pay. Instead the CD has an easygoing, conciliatory tone, mixing reggae, acoustic African rhythms, bluesy laments and an occasional spark of hip-hop.
It's the sound of people who've experienced unspeakable horror and are now, it seems, looking to gently but firmly tell the world about those experiences and foster the sort of understanding that just might prevent (or at least lessen) such tragedies in the future.
Recorded in refugee camps in Guinea as well as a studio in Sierra Leone's capital Freetown, the quietly gripping music here seems so far removed from commercial concerns and marketing strategies, and yet it feels entirely accessible.
The singing is mostly in English, with lead vocalist Reuben M. Koroma carrying the same sort of friendly authority as Nigeria's Sonny Okosun. Though some of the lyrics are parabolic, mainly they're straightforward declarations on the need for greater humanity and compassion among people. Naturally most of the songs are tied in with what the All Stars themselves went through, but universal messages ("Weapon Conflict," "Big Lesson," "Compliments for the Peace") are found at every turn.
There's a lot more to the story of this band, much of which is told in a recent documentary film that's won acclaim and some awards. I haven't seen the film and am not about to recount any more of the story. I'm just here to tell you this CD contains unassuming, vital,life-affirming music from start to
finish. Obtain it immediately.
Author:
Tom Orr
Tom Orr is a California-based writer whose talent and mental stability are of an equally questionable nature. His hobbies include ignoring trends, striking dramatic poses in front of his ever-tolerant wife and watching helplessly as his kids surpass him in all desirable traits.