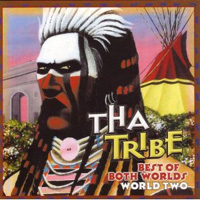 THA Tribe
Best of Both Worlds – World 2 (Canyon Records)
The follow up to THA Tribe's Best of Both Worlds, simply titled, Best of Both Worlds – World 2 features young and vibrant intertribal singers and drummers. According to the liner notes, "The pow-wow scene of today is a world in which traditional and modern exist side by side; where hip-hop style and the beat of grass dance meet." Of course, this modern influence would attract a new generation of dancers, singers and drummers trying to express themselves. While some traditionalist would raise an eyebrow at including hip-hop beats with old style pow-wow songs, THA Tribe seems to know what they are doing.
Their previous recording, Best of Both Worlds-World One garnered a double nominee at the NAMMY Awards for Group of the Year and Best Pow-Wow Album. The group also features champion musicians, meaning they have also impressed pow-wow judges (not such an easy task when you see the vast talent on the pow-wow trail).
While I'm hardly and expert on pow-wow drumming and singing, and certainly not able to judge a champion singer, I can say that this CD is ripe with vitality, a strong heartbeat, passionate singing and I can see the dancers enjoying themselves as they dance to these beats. The folks at Canyon Records call the songs cutting edge and if THA Tribe can excite future generations of tribal and non-tribal people to explore and honor the pow-wow tradition, then it's a good thing.
This archival review by Patty-Lynne Herlevi formerly appeared on Cranky Crow World Music
Buy Best of Both Worlds – World 2.