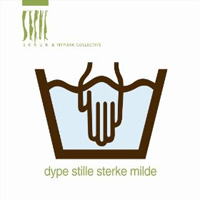 Skruk & Nymark Collective – dype stille sterke milde [deep, still, strong, mild] (Kirkelig Kulturverksted from Norway)
Medieval Women's Choir – River of Red, Music by Hildegard of Bingen [O Rubor Sanguinis] ( Independent Release from Seattle, Washington)
Jean-Paul Poletti – Cantata Corsica (Universal Music Classics France)
I enjoy vocal ensemble and choral music all year long, but for many, the fall/winter holiday season and spring religious celebrations mark a time for attending choral concerts. The three recordings featured in this review, The Norwegian choir Skruk with the Nymark Collective's dype stille sterke milde, Corsican composer and baritone Jean-Paul Poletti's Cantata Corsica and the Seattle-based Medieval Women's Choir's, (led by Director, Margriet Tindemans), River of Red all hail from the Christian tradition.
While a great many choral recordings do hail from the Christian tradition, you can also find Buddhist choral work, Tibetan monk choirs come to mind, secular choirs and choirs from mixed spiritual traditions.
Although the three recordings here hail from the Christian tradition, they are diverse in nature. The Norwegian recording falls into the progressive Protestant tradition, even including a jazz ensemble, Cantata Corsica hails from the Franciscan tradition and also sports some progressive ideas combining the honoring of the earth with the Christian concepts of peace, brotherhood and thanksgiving. And Medieval Women's Choir performs the work of the German mystic and Benedictine Abbess, Hildegard of Bingen, (a non-musician who channeled innovative Gregorian chants).
So let's start with the most contemporary sounding of the three recordings, dype stille sterke milde, (deep, still, strong, mild). This recording features Norwegian popular Christian songs "based on the melodious jazz tradition that continues to enjoy great popularity in the Scandinavian countries." The immaculately rendered Norwegian vocals soar over warm bass, drums, piano and sultry trumpet. The songs range from slow to lively tempo, from somber to spirited with plenty of soloists strutting their vocal stuff.
Running almost 70 minutes and presenting the innovative work of Kare Nymark, Jr. (trumpet), Mats Eilertsen (bass) and Kenneth Ekornes (drums), along with pianist and arranger Tord Gustavsen (Skruk & Nymark Collective), conductor Per Oddvar Hildre and a large choir, this lovely recording lends itself well to soothing background music while you go about your holiday tasks or for plain relaxing. Certainly the stunning recording presents some charming moments and soulful musicianship. And you might just visualize the snowy climes of Norway in the process of listening to it.
You won't find snowy climes in Seattle, Washington, but the rainy season that last approximately from late October through June, leads to some quality moments spent indoors, cuddling with a favorite book or exploring various recordings. Many musicians and alternative healers, as well as, Early Music ensembles and choirs reside in this damp city so a recording featuring the music of the 12th century German mystic and healer, Hildegard of Bingen fits right at home here.
The Medieval Women's Choir led by renowned Dutch viol da gamba player Margriet Tindemans is not the first Seattle choir to tackle Hildegard's challenging religious chants. Seattle Pro-Musica led by Artistic Director Karen P. Thomas featured Hildegard's chants on its CD, Music of the Spirit. However, MWC devoted an entire album to Hildegard of Bingen's music, interspersed with instrumental music performed on medieval fiddle, harp and various percussion. Soloist include, Deirdre Forman, Ann Glusker, Katherine Hanson, Marian Seibert and Linda Strandberg. Instrumentalists include, Shira Kamman, Tindemans, Bill McJohn and Peggy Monroe who all bring the spirit of Hildegard alive on this recording.
In fact, I have heard other vocal ensembles performing the works of Hildegard, including Anonymous 4, and the Swedish folk group, Garmarna, but none of those recordings possess the humility combined with spirited vocals that appear on MWC's River of Red. Recorded at the Chapel at Bastyr University (a Natural Medicine university), and paid for by generous donations, the vocalists bring us a truly healing experience. Absent of any large marketing budget, the choir captures the divine love, grace and even rapture of Hildegard of Bingen.
"Since its inception in 1990, the Medieval Women's Choir has made the music of Hildegard of Bingen (1098-1179), a centerpiece of its repertoire. The choir members and audiences alike have been captivated by the originality and vivid imagery of her artistic vision."
The themes on this album revolve around the feminine, including chants to the Virgin Mary and also the Virgin Saint Ursula, who Hildegard held in great esteem. One does not need to read Hildegard's manuscripts which include information on plant medicines, nutrition and the healing aspects of music among the famous virtues and vices, to glean the power of the mystic's chants.
However, it does help to put Hildegard in context when listening to her music. She was a medieval abbess who experienced powerful visions directly from God and somehow managed to gain the admiration of Catholic officials, (people with visions were often burnt on stakes during that historical period). She painted elaborate mandalas even though she was not trained as an artist. She composed music even though she had no training as a musician and she channeled healing information about various plants even though she had no medical training.
MWC possesses a similar spirit. The musicians offer us beautifully rendered vocals despite the fact that this challenging work proves daunting to many vocalists. Although the choir is non-professional, it does include formidable vocal and instrumental talent of Early Music. River of Red marks a debut recording for the choir. I have a feeling the waiting list to join the choir will increase with the release of this wonderful disc. I encourage you to pick up this mesmerizing CD.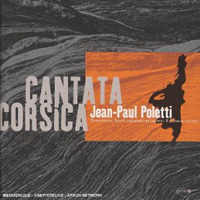 The final recording in this review, Jean-Paul Poletti's Cantata Corsica, presents the Franciscan spirit, a love of the earth, peace between brothers set among lush orchestral arrangements. I like to refer to Poletti as a Handel of our time. His monumental work both with Corsican polyphony and choral-orchestra arrangements deserves widespread international recognition. Similar to the Hildegard recording mentioned above, Cantata Corsica has the power to heal us and our world communities. If only music could fly into places of devastation and war, landing like doves and delivering peace.
Cantata Corsica features a stellar group of vocalists and instrumentalists, including the internationally known Corsican alto Jacky Micaelli (Donnisulana), Italian opera mezzo-soprano Mya Fracassini, Corsican tenor Cyrille Lovighi and baritones Poletti and Jacques Culioli. Long time collaborator with Poletti, pianist Costa Papadoukas handled the orchestration and Romanian Ciprian Para conducted the work. The Men's Choir of Sartene, the Monteverdi de Bono Choir and Philharmonic Orchestra of Sibiu (Romania), round off the talent.
The classical form, cantata hails from 18th century Italy and features one or more voices comprising solos, duets, recitatives and choruses with instrumental accompaniment. "The casting of four voices in the Cantata is quite classical: soprano for the wanderer and sower of music; alto to echo the vocero of the hired mourners of centuries past; baritone as the voice of earth and of memory; tenor to the voice of storm and provides the narration." (liner notes).
Poletti composed Cantata Corsica during a great time of sadness (1989-90), "when brothers turned their arms against their brothers, the writing of Cantata marked a refusal to submit to the moral and intellectual panic that gripped Corsica at that time. And this work also proceeds from the Christian desire for sharing, prayer and thanksgiving." (liner notes)
Cantata is divided into three sections, Tramuntana (the North Wind), Sur les cahier de granite and Les chim?res d'ailleurs. True to its form, you hear solo vocals backed by orchestration or the choirs. The only polyphony you will hear on the recording is on the second track, Lettera di a tramuntana and the final dramatic track ends with polyphony and instrumental fanfare, giving me the image of gigantic waves hitting a rocky shore. The intense vocals are often followed by filigree and shades of instrumental passages. The woodwinds and the guitar passages ripe with motifs, thundering timpani, rain-drenched strings and the sound of the earth rising up in protest all contribute their theatrics to this phenomenal work.
Cantata Corsica with its plea for peace and humanity has been performed several times from lush theaters to the height of a rocky precipice, at Lake Melu, "1,700 meters–a most memorable performance: everyone had to clamber up into the mountains for the concert, the singers were on a rock 80 meters from the orchestra, and the helicopter carrying the television crew flew over the site." (liner notes). Cantata also clambers and soars to great heights with spellbinding vocals, mesmerizing orchestration and hopeful, passionate yearning.< So explore choral recordings all year round from places nearby or far-off corners of the world. These three recordings are a good place to start. Buy Cantata Corsica.
Medieval Women's Choir, http://www.medievalwomenschoir.org
Jean-Paul Poletti, www.jppoletti.com
Compliments of Cranky Crow Whole Music.
Author:
PatriciaHerlevi
Patricia Herlevi is a former music journalist turned music researcher. She is especially interested in raising music consciousness. She is looking for an agent and publisher for her book Whole Music (Soul Food for the Mind Body Spirit). She founded and hosts the blog
The Whole Music Experience and has contributed to World Music Central since 2003.