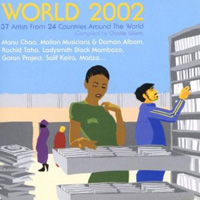 Various Artists
World 2002 (compilation) (Narada Records)
Name your favorite artist, favorite instrument and chances are it is represented on this compilation CD (2 discs). Compiled by BBC radio show host, Charlie Gillett, World 2002 features 37 artists, infamous and emerging from 24 countries. Oddly enough the UK is under represented and many of the artists hail from the African continent. The tracks were chosen by Gillett and listeners of his world music show and although World 2002 flows beautifully from one track to the next as well as, representing a vast array of gifted musicians, many parts of the world are missing such as Southeast Asia, Japan, Ireland, Northern Europe and the US.
Compilation albums serve two purposes. The first purpose is to promote a variety of artists in a succinct format and the second purpose allows recognized talent and newcomers to appear on the same disc. World 2002 succeeds at both purposes and celebrates a variety of traditions and cultures. In that regard, the disc acts as an educational tool and entertainment. It's a compilation that you will want to share with friends and musicians. And it is a primer for those just discovering world music.
Emerging flamenco vocalist Estrella Morente's Pepico's Tangos es muy caliente and easily my favorite track on the compilation. She represents the numerous women musicians that appear on the discs including Portugal's Mariza (Oica La O Senhor Vinho), Argentina's Gotan Project (Una Musica Brutal), Mali's Salif Keita, Mamani Keita, Tuva's Sainkho Namtchylak, Palestinian vocalist Amal Murkas and Israeli vocalist Chava Alberstein just to name a few.
The male musicians that appear along side the women also deliver stellar performances. They hail from Mali, Algeria, Spain, France, Mexico, Brazil and Bosnia. Established Franco-Spanish musician Manu Chao delivers a contemporary and hypnotic, La Primavera while oddly recalling the Bugles New Wave hit, Video Killed the Radio Star with its funky drum beats, repetitive raspy vocals. The Colombian newcomer Cabas works the ladies in the room with his ultra sensual M Bombon while the Tuareg group Tinariwen delivers a desert blues track, Mataraden Anexan.
This delightful collection proves that compilations can not only deliver world music in an economical package but also whet appetites for new styles of music. Everyone will make a different discovery upon hearing World 2002 and every musical journey will be different as well, but the journey definitely starts here. Bon voyage.
This archival review by Patty-Lynne Herlevi formerly appeared on Cranky Crow World Music
Buy World 2002.