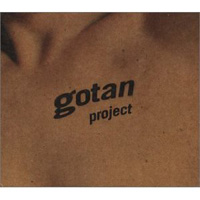 Gotan Project
La Revancha del Tango (Ya Basta! Records)
The late Argentine tango composer Astor Piazzolla has left his musical mark on various Latin and European musical groups. We can hear echoes of Piazzolla in Lo'Jo's homage to tango and now a new act, the Gotan Project has arrived on the scene to continue Piazzolla' tango legacy. However, when I mention tango, I'm not referring to the traditional tango associated with the dance form, but a more experimental form called Nuevo Tango that combined elements of classical, jazz and abstract music with what we can barely recognize as traditional tango. (For those rare folks that haven't heard of Piazzolla, go out and purchase any one of his recordings and if you possess a poetic streak, you will connect with the master of tango).
Gotan Project lacks the musical genius and passion of Piazzolla, but possesses ingenuity, originality and boldness of the master composer. GP's release la revancha del tango takes tango to new heights by blending dance club bass & beats with a sad urgency and the result is high octane tango.
French producers Philippe Cohen Solal and Christophe Mueller along with Argentine guitarist Eduardo Makaroff founded Gotan Project while successfully blending the hip dance club sensibilities with a love for Argentine music. The tracks on their debut release act as a musical kaleidoscope where 70's disco beats literally dance with old fashion tango rhythms.
Traditional instruments such as the bandoneon, violin, piano and sultry vocals appear within this kaleidoscope, but only peeking through on occasion. While Piazzolla's music emphasized his bandoneon playing memorable melodies, GP's features bass anchoring rhythm tracks that are at times interrupted by sensual melodies.
While GP performs Piazzolla's Vuelvo al Sur on this release, Gotan Project's original compositions, Chunga's Revenge with weeping violin and Queremos Paz come closer to sounding like Piazzolla's work. GP's rendition of Vuelvo al Sur (off of Piazzolla's La Camorra-La Soledad de la Provocacion Apasionada), is barely recognizable until vocalist Cristina Vilallonga sings the melody half way through the song.
Although Vilallonga's sultry vocals add a haunting quality, she lacks the intensity of other Argentine vocalists that nailed this song. And yet, along with GP's remake of Gato Barbieri's Last Tango in Paris, Vuelvo al Sur offers this album's finest moments. That's not to say that GP's original compositions lack musical or sex appeal since this album possess both elements.
Gotan Project offers aggressive, haunting and beautiful tango music that is also eclectic and experimental. These musicians are influenced by the likes of Piazzolla and Frank Zappa, both forerunners of varying musical styles. However, we don't need to over intellectualize GP's music and instead we can just kick back and enjoy this Nuevo tango of the new millennium.
This archival review by Patty-Lynne Herlevi formerly appeared on Cranky Crow World Music.