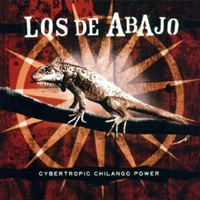 Los De Abajo
Cybertropic Chilango Power (Luaka Bop Records)
As far as I'm concerned, former Talking Heads member, David Byrne has good taste. He has signed several innovative Latin American groups to his label Luaka Bop Records, but the most recent Luaka Bop act to catch my attention is Mexico's genre bending group, Los De Abajo. Translating to "Those from Below," Los De Abajo blends punk, ska, salsa, funk, hip hop and folkloric rhythms while resembling the Stateside groups The Pixies and Luscious Jackson. And similar to the funk group Luscious Jackson that brings you NYC vibes, Los De Abajo brings Mexico City life straight to your CD player. This group also mixes circus motifs with revolutionary poetry (they are pro indigenous rights).
The group's second CD, Cybertropic Chilango Power acts as the group's manifesto with its fusion of electronics and tropical sounds. ("Chilango" is a derogatory name given to city dwellers by province dwellers).
Cybertropic features ten actual songs and six sound bites that include circus performers (La Latitude Compaignie), street vendors hawking their goods, and musical performers at Faro de Oriente. At times, you can actually feel like you're at the circus or walking on Mexico City's crowded streets.
The collection of songs here range from the opener hip hop Que Mala Suerte (What Bad Luck) to the funky Si Existe Ese Luga (That Place Does Exist) and SR Judas to the folkloric El Loco (Mad Man) and the salsa number Matame Amor (Kill Me, My Love), originally commissioned for a film soundtrack. I would imagine that this album would appeal to alternative and world music audiences. In fact, this seven member group, led by Liber Teran who contributes sound effects, vocals, guitar and flute, should appeal to any human that's still in the process of breathing. Cybertropic Chilango Power pulses with passion and youthful energy while sporting poetic lyrics. This crossover album could be compared to a red hot chili pepper without the side effects. You just can't help being slightly enamored with it and you'll be begging for more.
This archival review by Patty-Lynne Herlevi formerly appeared on Cranky Crow World Music.
Buy Chilango Power.