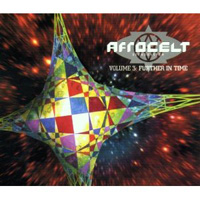 Afro Celt Sound System
Volume 3: Further In Time (Real World/Narada Records)
The international super group Afro Celt Sound System offer us a feast of musical delights hailing from West Africa, Ireland and England with their third outing, Further In Time.
Although the dance-house beats and Celtic mysticism is ever present on this CD, the Afro-Celts have added more African content here from Shadow Man with Barry Demba on vocals and N'Faly Kouyate's smooth Onwards, a song that crowns the other tracks.
The Afro-Celts broadened their sound and their market potential. Last summer the group headlined WOMAD USA along with Peter Gabriel (who also makes a guest appearance on the CD) and Further In Time rode the top of the charts in the UK leading to a US tour for the Afro-Celts.
Further In Time doesn't feature any particular artist of the group, but instead acts as a sum of its parts. However, the combination of Johnny Kalsi (dhol, tabla and kit), James McNally (Irish drum) and Moussa Sissokho (talking drum and djembe) add an irresistible groove that is further enhanced by vocal tracks by Barry Demba, N'Faly Kouyate, Iarla O Lionáird and various guest musicians including Robert Plant and Peter Gabriel .
Although this album is a year old, I am reviewing it again because it deserves a second or third round of attention. This album represents a trend of world music fusion that actually compliments traditional and classical world music. It's not just for the 20-somethings, but for anyone who likes to dance and feel young at heart. And if this album interests you, then check out other musical acts such as TransGlobal Underground.
This archival review by Patty-Lynne Herlevi formerly appeared on Cranky Crow World Music.
Buy Further In Time.