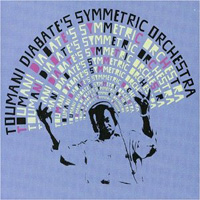 For the past year all of us here at World Music Central have pounded the pavement, scrounged through stacks of CDs and even occasionally rummaged through the trash bin searching for that misplaced press release to bring you the very best in world music.
As we slide into the dizzyingly dazzling season of the holiday, we though we'd try and make your holidays a little brighter and perhaps a little less stressed with a gift guide for the music maniacs in your life.
Let's start out with our editor's picks this year:
Tom Orr (World Music Central, USA)
Toni Karxofa
(Músicas del Mundo.org, Spain)
Yvonne Mitton (World Music Central, UK)
Patty-Lynne Herlevi (World Music Central & Cranky Crow Whole Music, USA) has 2 lists, one instrumental and the other vocal.
Instrumental Top Picks
Vocals Top Picks
Angel Romero (World Music Central, USA)
Rafael Mieses (Músicas del Mundo.org, USA)
On to other goodies. Perhaps you have on your gift list a loved one or friend still clinging to that ratty old portable cassette player, who is still begging you to record all your cool CDs on tape. Well, there are some good deals on portable CD players out there, including Sony's DEJ010BLK CD Walkman Portable Compact Disc Player for less than 30 bucks or the slightly more expensive Sony DFJ040PSBLU CD Walkman Portable Compact Disc Player with Tuner that boasts Sony's Skip-Free G-Protection.
For that special someone Apple's iPod series might be the way to go with their downloadable partnership with iTunes. The low end of the iPod series is the Apple iPod shuffle, while the Apple 4 GB iPod Nano goes for around $189.99, but has a holds 1000-song capacity and can be used to store photos. Now, for the extra special person you might want to go all out and get the Apple 80 GB iPod Video 5.5 Generation that can hold up to 20,000 songs, hours of video and photos with its 80 GB of storage. It boasts of a 2.5-inch, 320×240-pixel color screen and comes with a price tag of $332.49. Or you can try the kid in the block, Microsoft's Zune 30 GB Digital Media Player, which stores up to 7,500 songs, 25,000 pictures or 100 hours of video for around $250. For the more modest of means is the SanDisk Sansa M230 512 MB MP3 Player that can hold up to 8 hours of music and won't break the bank at $45.99.
If you are looking for a wireless player, try the MusicGremlin Wi-Fi MP3 Player , a personal digital music player with Wi-Fi connectivity for wireless file transfers and music sharing.
Don't forget that a good pair of headphones might be the gift for that pan flute loving roommate or the headbanging teen in your house. Sony has its MDR-NC6 Noise Canceling Headphones for $37.98 that claim a 70% reduction in exterior noise. Sennheiser's pricier Sennheiser RS 130 Wireless Surround Sound Headphones might just be the ticket for the wandering music fan. While the list price of $169.95 might just scare some off, those interested might want to check the new and used section of Amazon.com for some amazing deals. Sennheiser also has its HD 202 Headphones for a reasonable $22.56 with a good customer rating.
For the music fan that is looking for the latest news on world CDs and groups might just like a magazine subscription. fRoots, Dirty Linen and Latin Beat are very fine publications that are chocked full of world music news and the latest on new groups. You can save yourself a traffic-choked trip to the mall (shopping center) and give a year's subscription.
Another online option is Amazon.com's extensive collection of books on music. There's an endless array of books on music instruction, specific genres of world music and some study guides for students of world music. ¡Cocinando! by Pablo Yglesias is wonderful book full of 50 years of Latin album artwork. For the drum enthusiast try The Way of Taiko: New Book Introduces the Art of Japanese Drumming by Heidi Varian with its collection of gorgeous photographs is sure to please. There's also the book Rough Guide to World Music Volume One: Africa, Europe & the Middle East by Simon Broughton and Mark Ellingham, as well as its companion, Rough Guide to World Music Volume Two: Latin and North America, the Caribbean, Asia & the Pacific by the same authors. These two books are rich and wonderful examinations into the cultural and historical musical traditions that grow and thrive around the world.
Perhaps you're in the market for musical instruments. Try Novica.com, a partner to the National Geographic Society. At Novica you can purchase a mahogany kalimba, a jembe drum or South American flutes. What's great about this site is that there is a profile of each craftsman who makes your instrument; so if you order that teak gong from Thailand you get a photo and a description of the artist Somkiat Sajjapunyathikun. The site is detailed with a description and the materials used in making the instrument. Interested shoppers should order early as the shipping could take several weeks, but the beauty and craftsmanship certainly makes up for the wait. Novica also has a beautiful selection of rugs, clothing and much more from around the world to delight just about anyone on your list. The prices vary from reasonable to costly depending on your wallet.
Now because this is the season of giving please don't forget some of our favorite charities like FreeMuse, Music Maker Relief Foundation and Music for Relief. You can also get into the spirit of the season by donating an instrument to your local high school music department or the Young Musicians Foundation. Remember you can change a child's life with a violin or your old clarinet.
Last, but not least, don't forget yourself this holiday season. This year why not while away the dark days of January by giving yourself some music lessons on that guitar you've had stashed in the attic or taking up with a stranger for a few tango lessons or perhaps treating a friend to dinner and a local concert. Oliver Wendell Holmes's advice was this, "Take a music bath once or twice a week for a few seasons, and you will find that it is to the soul what water bath is to the body."
As always let me wish all of our readers a Merry Christmas … Feliz Navidad… Shuvo Naba Barsha… Kung His Hsin Nien bing Chu Shen Tan… Glædelig Jul… Joyeux Noel…Nollaig chridheil agus Bliadhna mhath ùr!…Buone Feste Natalizie… Merry Keshmish… Wesolych Swiat Bozego Narodzenia… La Maunia Le Kilisimasi Ma Le Tausaga Fou… Sawadee Pee Mai… Cestitamo Bozic……
Author:
TJ Nelson
TJ Nelson is a regular CD reviewer and editor at World Music Central. She is also a fiction writer. Check out her latest book, Chasing Athena's Shadow.
Set in Pineboro, North Carolina, Chasing Athena's Shadow follows the adventures of Grace, an adult literacy teacher, as she seeks to solve a long forgotten family mystery. Her charmingly dysfunctional family is of little help in her quest. Along with her best friends, an attractive Mexican teacher and an amiable gay chef, Grace must find the one fading memory that holds the key to why Grace's great-grandmother, Athena, shot her husband on the courthouse steps in 1931.
Traversing the line between the Old South and New South, Grace will have to dig into the past to uncover Athena's true crime.