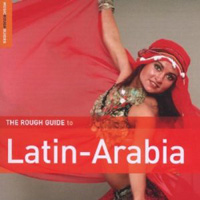 The Rough Guide to Latin Arabia (World Music Network RGNET 1175CD, 2006)
The connections between Latin and Arabic music should come as no surprise. The Iberian peninsula was, after all, the hub of the Islamic world for centuries, leaving an irreversible (if at times subtle) impact on many things Latin and cultural that traveled to the Western Hemisphere and back again. (If you want proof, look no further than the fact that such Arabic-influenced instruments as the dumbek and laud were part of the Buena Vista Social Club's bestselling sound. But although the stylistic connections that form the backbone of this album are well known, the music is so superb that there's nothing same-old about it.
Besides such smashing collaborations as Algerian piano legend Maurice El Medioni jamming alongside Cuban percussionist Roberto Rodriguez and Turkish multi-instrumentalist Omar Faruk Tekbilek getting mystical alongside flamenco singer Enrique Morente, there's the mambo/rai mashup of Salamat's opening track, the familiar bounce of "Ya Nour El Ein" by Egypt's Amr Diab and Cuban violinist Alfredo De La Fe perfectly blending Middle Eastern grooves, Colombian cumbia and a bit of hip-hop.
Still not convinced? Consider Radio Tarifa's Benjamin Escoriza singing atop a flamenco-sweetened beat that sounds equal parts Gnawa trance and Afro-Cuban bata, the astounding Judeo-Andalusian vocalizing of Emil Zrihan or a Maghreb-laced version of the classic "Chan Chan" (a song you might have thought you were sick of) recorded by Moroccan singer Rhany at Egrem Studio in Havana. That's it- I'm through gushing. Buy this excellent CD and enjoy it deeply and frequently.
Buy Rough Guide to Latin Arabia.
Author:
Tom Orr
Tom Orr is a California-based writer whose talent and mental stability are of an equally questionable nature. His hobbies include ignoring trends, striking dramatic poses in front of his ever-tolerant wife and watching helplessly as his kids surpass him in all desirable traits.