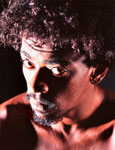 The Northampton (UK) music scene can sometimes feel like cultural black hole with an apparently insatiable appetite for tribute bands. Saturday night brought a breath of fresh air, and a too rare treat: Seu Jorge and AfroReggae at the refurbished Derngate theatre in the town centre.
Initially, we thought we were at the wrong gig.BBC Radio 1 DJ Gilles Peterson spent an hour spinning what sounded like over amplified, monotonous, middle-of-the-road, commercial Latino. It must have been at least 30 minutes before he deigned to acknowledge the presence of an increasingly restless audience and was then foolhardy enough to announce that he'd be on stage for another 15 minutes; at that point the more discerning punters got to their feet as one and went out for a choice, all with the same thought. If we'd wanted to watch a man fiddling with knobs and flapping vinyl around we could have stayed at home.
After this unexpectedly extended interval, the decks had vanished from the stage along with their owner; a palpable relief. At last, the real, live musicians we'd come to see. Seu Jorge, looking younger and slighter than current publicity photos, and with dreadlocks, arrived on stage with AfroReggae.
To start with, it did look as if we were going to be short-changed again when only 5 members of what the flyer described as a 13-piece big band appeared, but even downsized, AfroReggae were a delight and the perfect backing for Seu's great warm voice and guitar. They made it look easy, but not easy listening; this time the audience were on their feet for the right reasons.
Seu worryingly left the stage for a while and a horror of being DJ-ed at again spread through the audience but it was to allow for a cracking virtuoso performance on tambourines from the percussionists including a breed of drum called a cuica (friction drum), with a sound resembling an amusingly tuneful whoopee cushion.
On his return, he sang his moving Eu Sou Favelas followed by a well received speech about his 'escape' from the favelas of Rio De Janeiro and his commitment and hopes for those still living there.
The inevitable encore brought Seu and AfroReggae grinning and leaping off the stage into a joyful samba parade around the audience, panicking his minders into hot pursuit, and ending up, to the delight of all, with a terrific and prolonged performance in the middle of the stalls (right in my face!).
I guess we're expected to appreciate DJ Gilles Peterson 'presenting' Seu Jorge as per the flyer but Seu Jorge definitely doesn't need anyone to present him, certainly not a superfluous DJ. Those already booked to see the rest of his tour in the UK, fear not, Seu and the reduced AfroReggae are well worth it; just time your arrival judiciously.