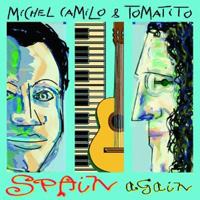 Michel Camilo & Tomatito – Spain Again (Universal Classics, 2006)
Michel Camilo & Barcelona Symphony Orchestra, Ernest Martinez Izquierdo, Conductor – Rhapsody in Blue (Telarc Jazz, 2006)
I first saw Michel Camilo when I watched Trueba's Calle 54. The gifted pianist-composer touched the deepest part of my musical soul as he delivered his composition, From Within (which also appears on Spain Again), to the film's viewers.
On the recording, Spain Again, a follow-up to the 1999 and Grammy-winning, Spain with flamenco guitarist Tomatito, the musicians marry Caribbean piano via New York with flamenco guitar via Spain.
The two sensitive and passionate musicians send off sparks in every direction as they explore the work of Astor Piazzolla, Chick Corea, Ned Washington with Victor Jones and their own compositions. The recording ends with the guest vocalist, Juan Luis Guerra's love ballad, Amor De Conuco.
It's a wonderful experience to hear Astor Piazzolla's Libertango, Fuga y Misterio and Adios Nonino exploding from passionate guitar and piano and then to also hear newer work. Camilo and Tomatito not only interpret the work of great Latin composers, but also create their own greatness. These musicians play straight from their hearts, gleaning every nuance out of the notes they play as well as, milking the strings and keys of their respective instruments for vibrant emotions, everything from the playfulness of Libertango to the sobs of Adios Nonino (a song Piazzolla wrote for his late father), to the love that pours from Guerra's ballad. And despite the ocean that stands between Spain and New York, Spain Again bridges the gap and sends its listeners hearts, on both shores, reeling.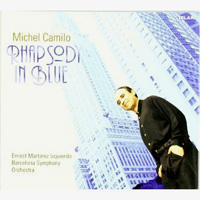 Depending on one's point of view, George Gershwin's 1924 Rhapsody in Blue can be categorized as jazz or American classical music. On Caribbean pianist and composer Michel Camilo's recording, with the Barcelona Symphony Orchestra and conductor Ernest Martinez Izquierdo at the helm, Rhapsody in Blue weighs in with African-American jazz. However, Camilo was not doctoring the punch with Afro-Latin flavors. Gershwin himself had fallen under the spell of Tin Pan Alley, ragtime, blues, and jazz as well as, French Impressionism music of Maurice Ravel and Claude Debussy, (Ravel was also inspired by African-American jazz), and on this recording, Camilo "mostly uses Gershwin's original solo piano phrase and accent markings–which, he notes, often call for a 'jazzy' approach." (liner notes)
I don't think that it is an odd marriage between the Latin jazz composer Camilo and the iconoclastic Gershwin. Both have proven themselves to be versatile musicians composing for movies and their respective musical genres.
amilo has both a classical and jazz background and has worked with jazz orchestras, both pianist work from an expansive palette of emotions and musical timbres, rhythms and tones even if they find themselves composing music in different eras (Gershwin died in 1937 of a brain tumor and the same year that Ravel died of brain disease).
I cannot mention Gershwin without bringing up Ravel because the two composers musically fed off of each other. Gershwin fell in love with late 19th/20th century French classical music and had even asked Ravel to give him composition lessons. Ravel retorted, "why should you be a second-rate Ravel when you can be a first-rate Gershwin!" And if you listen to Ravel's Piano Concerto in G Major (composed in 1929-31), you can hear shards of Gershwin's Rhapsody in Blue (composed in 1924), and the comparisons do not stop there.
This recording starts off with a warm soaring clarinet introducing the main theme, which is followed by a jazzy muted trumpet repeating the theme and then the symphony comes in like a blast of hot summer air. Camilo's heavily syncopated piano with sparkling runs sounds like ice tinkling in a cocktail glass in places, enjoying the high life. The music that radiates from the musicians, lodges itself in the fabric of the American experience. Gershwin's Rhapsody in Blue is as synonymous with American experience as Ravel and Debussy's music are to French culture.
The slow middle section, familiar to many American ears for its use by one of America's famous airlines' television commercials, feels like a divine Hollywood dream floating in clouds, which is probably why the airline picked it up as its theme music. The final section moves back into early American jazz with a heavy African-American influence.
Camilo and the Barcelona Symphony Orchestra also perform Gershwin's Concerto in F, the perfect companion for Rhapsody in Blue, with enough genre bending to keep both classical and jazz music fans content, if not ecstatic. Michel Camilo's Rhapsody in Blue won a Latin Grammy Award for Best Classical Album and deservedly so.
Compliments of Cranky Crow Whole Music
Buy Spain Again and Rhapsody in Blue.
Author:
PatriciaHerlevi
Patricia Herlevi is a former music journalist turned music researcher. She is especially interested in raising music consciousness. She is looking for an agent and publisher for her book Whole Music (Soul Food for the Mind Body Spirit). She founded and hosts the blog
The Whole Music Experience and has contributed to World Music Central since 2003.