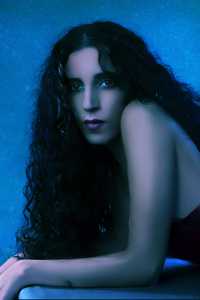 San Francisco (California), USA – Azam Ali has been busy lending her vocal talents to two highly anticipated films; 300 (Warner Brothers) and The Nativity Story (New Line Cinema). Ali has already built an impressive resume singing on film scores including Matrix Revolutions, Dawn of the Dead, Godsend, Paparazzi, and Children of Dune. In addition, her voice resonates on hit TV shows Alias, Prison Break, and most recently on the ABC miniseries The Path to 9/11, singing in Arabic and Urdu.
300, directed by Zach Synder (Dawn of the Dead), is based on Frank Miller's (Sin City) acclaimed graphic novel retelling of the ancient Battle of Thermopylae in which King Leonidas (Gerard Butler) and 300 Spartans fought to the death against Xerxes and his massive Persian army. Ali worked with music composer Tyler Bates and contributed solo features, vocalization, and textural vocals throughout the film, which is due out in March 2007.
The Nativity Story, directed by Catherine Hardwicke (Lords of Dogtown, Thirteen) features Oscar nominees Keisha Castle-Hughes (Whale Rider) and Shoreh Aghdashloo (The House of Sand Fog). The plot follows the story of the Virgin Mary before the birth of Christ, and is scheduled for a December 2006 release. Award-winning composer Mychael Danna, who worked with Ali on two songs and vocalizing, is overseeing the score. Danna is recognized as one of the pioneers of combining non-Western sound sources with orchestral and electronic minimalism in the world of film music.
"Using my voice to extend emotions on film and TV is a natural fit for me," says Azam Ali. "This medium combines a visual stimuli to my voice, which helps audiences connect to the plot." Azam's film work comes hot on the heels of her critically acclaimed album, Elysium for the Brave, out now on Six Degrees. In addition to Azam's solo work, she has reached successful heights as part of the Persian electronica outfit Niyaz, consisting of Axiom of Choice's multi-instrumentalist Loga Ramin Torkian and producer Carmen Rizzo (Seal, Alanis Morisette, Paul Oakenfold), as well as one half of the duo Vas.
Buy Elysium for the Brave and Niyaz's CD, Niyaz.
Author:
World Music Central News Department
World music news from the editors at World Music Central