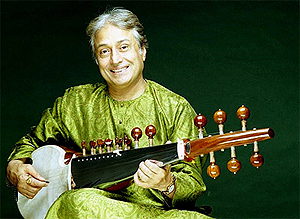 San Francisco (California), USA – The Center for India Studies presents Amjad Ali Khan in concert with The Legacy of the Sarod – India's Ancient Guitar, a special concert in New York recognizing the Centennial of Gandhi's Satyagraha Movement.
Amjad Ali Khan, India's legendary sarod virtuoso and composer, performs at Stern Auditorium, Carnegie Hall (New York City) on Saturday, October 28 at 8:00 p.m.
In a career that has spanned over 50 years, Khan, the master of the sarod, has performed throughout the world in the most prestigious venues and festivals. He now returns to Carnegie Hall in a special concert celebrating seven uninterrupted generations of masters of his instrument which will include his sons Amaan Ali Khan and Ayaan Ali Khan.
Khan has been a key figure in bringing traditional Indian music and culture to the West through his numerous performances, workshops, lectures and humanitarian work. Among his numerous awards and titles, Khan has served as an Ambassador to UNICEF, he has represented his nation at the First World Arts Summit in Venice and he has received the famed UNESCO award. A prolific composer, he has written for musicians from the East and West in addition to creating his own numerous ragas.
In 1999, Khan inaugurated the World Festival of Sacred Music with the Dalai Lama. "When Amjad Ali Khan performs he carries with him a deep human spirit, a warm feeling and a sense of caring" said the Dalai Lama.
Amjad Ali Khan's most recent CD releases include Moksha, a solo album for the Real World label. In the past, he has collaborated with the Hong Kong Philharmonic Orchestra and has been a visiting professor at the Universities of Yorkshire, Washington, North Eastern and New Mexico. BBC Magazine had voted one of his recent CDs titled Raga Bhairav among the best 50 classical albums of the world for the year 1995.
Amaan Ali Khan and Ayaan Ali Khan represent the 7th generation in an unbroken chain of the Senia Bangash School, disciples of their father and guru Amjad Ali Khan and grandsons of the Haafiz Ali Khan. Following their father's footsteps, they have achieved critical acclaim in the classical art form performing throughout the world. The young and talented brothers have recently expanded into crossover projects collaborating with the guitarist Derek Trucks (Allman Brothers Band) and percussionist Evelyn Glennie.
Recently, Amaan and Ayaan released a highly successful lounge/electronica album called Reincarnation.
Saturday, October 28, 2006 at 8:00 p.m.
Stern Auditorium
Amjad Ali Khan , Sarod
Amaan Ali Khan, Sarod
Ayaan Ali Khan, Sarod
Sukhvindar Singh, Tabla
Samir Chatterjee, Tabla
Ticket Information
Tickets, priced at $25, $30, $45, $50, $70, and $90, are available at the Carnegie Hall Box Office, 154 West 57th Street. They may also be charged to major credit cards by calling CarnegieCharge at 212-247-7800 or purchased online at the Carnegie Hall website, www.carnegiehall.org.
Author:
World Music Central News Department
World music news from the editors at World Music Central