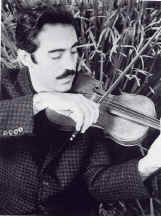 World renowned 'ud and violin master Simon Shaheen performs with Qantara, a group he founded that fuses Arab, jazz, Western classical, and Latin American music at the 92nd Street Y's Kaufmann Concert Hall on Saturday, November 4 at 8PM. Special guest Chiara Civello, an Italian singer, songwriter and pianist opens the show.
Shaheen dazzles his listeners as he deftly leaps from traditional Arabic sounds to jazz and Western classical styles. His soaring technique, melodic ingenuity, and unparalleled grace have earned him international acclaim as a virtuoso on the 'ud and violin.
Shaheen is one of the most significant Arab musicians, performers, and composers of his generation. His work incorporates and reflects a legacy of Arabic music, while it forges ahead to new frontiers, embracing many different styles in the process. This unique contribution to the world of arts was recognized in 1994 when Shaheen was honored with the prestigious National Heritage Award at the White House.
Shaheen has released five albums of his own: Saltanah (Water Lily Acoustics), Turath (CMP), Taqasim (Lyrichord), Simon Shaheen: The Music of Mohamed Abdel Wahab (Axiom) and Blue Flame (ARK21), where he leads his group, Qantara which was nominated for numerous Grammy Awards. He has also contributed cuts to producer Bill Laswell's fusion collective, Hallucination Engine (Island).
He has contributed selections to soundtracks for The Sheltering Sky and Malcolm X, among others, and has composed the entire soundtrack for the United Nations sponsored documentary, For Everyone Everywhere. Broadcast globally in December 1998, this film celebrated the 50th anniversary of the United Nations Human Rights Charter.
A Palestinian, born in the village of Tarshiha in the Galilee, Shaheen's childhood was steeped in music. His father, Hikmat Shaheen, was a professor of music and a master 'oud player. He began playing the 'ud at the age of five, and a year later studying violin at the Conservatory for Western Classical Music in Jerusalem.
After graduating from the Academy of Music in Jerusalem in 1978, Shaheen was appointed its instructor of Arab music, performance, and theory. Two years later he moved to New York City to complete studies in performance at the Manhattan School of Music, and later in performance and music education at Columbia University.
Shaheen perfoms as solo artist as well as with Qantara and the Near Eastern Music Ensemble which performs traditional Arabic music. He also continues to lecture at universities across the globe and since 1994 has produced the Annual Arab Festival of Arts, called Mahrajan al-Fan, a festival showcasing the work of the finest Arab artists, while presenting the scope, depth and quality of Arab culture.
Italian singer, songwriter and pianist Chiara Civello released her debut recording, Last Half Moon on Verve Forecast in 2005 featuring 10 original compositions seven written by herself and three co-writes, including the brooding ballad "Trouble" that was co-written with legend Burt Bacharach. The album mixes pop, jazz, cabaret and Latin styles.
Originally from Rome, Civello moved to Boston in 1993 after being awarded a scholarship to the prestigious Berklee College of Music — and by the time she graduated from Berklee in 1998, she had received a Boston Jazz Society Award as well as a Cleo Laine Award.
In 2000, she left Boston for New York City, where she met veteran producer Russ Titelman (Paul Simon, Rickie Lee Jones, Randy Newman, Eric Clapton, Steve Winwood, James Taylor and Brazilian star Milton Nascimento). Titleman recorded demos of Civello and then passed them along to Ron Goldstein, president and CEO of the Verve Music Group, who immediately offered her a contract.
Author:
World Music Central News Department
World music news from the editors at World Music Central