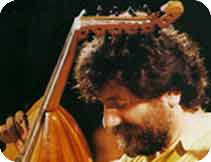 To conclude the World Music Concert Series 2006 series in San Diego, Marcel Khalifé (ud, voice) will perform Sunday, October 22 at 8pm at the Neurosciences Institute.

Khalifé has neen named "UNESCO Artist for Peace" (2005). He is one of Lebanon's leading musicians, reshaping traditional Arabic music into a universally communicative form of expression.
The program will consist of "Taqasim", a new instrumental work, as well as a
predominantly vocal presentation drawn from the poetry of the eminent Arab poet
Mahmoud Darwish. The ensemble consists of Peter Herbert (double bass), and Marcel's sons Rami Khalife (piano) and Bachar Khalife (percussion and vibes).
The concert will be held at the Neurosciences Institute, 10640 John Jay Hopkins Dr. San Diego, CA 92121.VIP $65, General $45, Students $15 at the door.
Sponsors for World Music Concert Series 2006 are the Center for World Music and Zaman Productions.
Tickets & Info: (619) 688-0688. Tickets at Chai & Chat, 5919 Balboa Ave, San Diego, CA 92111.
Supporting organizations are the Persian Cultural Center, Darvak, Al-Awda, and the La Jolla Athenaeum.
Author:
World Music Central News Department
World music news from the editors at World Music Central