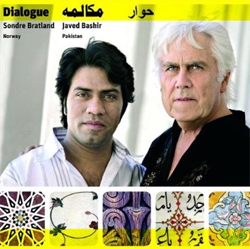 Christian and Muslim holy texts come together in Dialogue. On a journey to Lahore in Pakistan, Norwegian folksinger Sondre Bratland met the renowned Qawwali singer Javed Bashir. Together they performed psalms and hymns from their different religious traditions in mosques in Pakistan's old cultural capital.
In the words of Sondre Bratland, "We recorded this convergence between Christian and Muslim holy texts. Later Javed Bashir came to Norway and made several recordings with Sondre in two Norwegian churches. Apart from a hand drum that is included on a few tracks, the record is stripped of all instrumental accompaniment. This gives the music a contemplation and meditation that transcends today's overly hectic musical productions.""Peace Choir from Damascus (Syria), led by the young and talented singer Mamoun Abdulsalam, also took part in recordings we made in Syria, after being granted solemn permission by Syria's Grand Mufti, Dr. Ahmed Hassoun.
The record is a demonstration of the dedication, musical spirituality and technical brilliance of the two outstanding singers. But, the CD primarily reveals how close the twor traditions are on many levels, in relation to music, lyrics and attitudes.
"It is interesting to realize that just as so many cultures have similar lullabies for their children, it is striking how alike our approaches are when expressing a prayer to our Creator," adds Bratland.
Buy Dialogue
Author:
World Music Central News Department
World music news from the editors at World Music Central