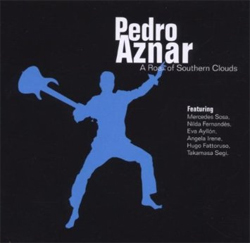 The latest release by Argentine multi-instrumentalist Pedro Aznar is A Roar of Southern Clouds.
Aznar is one of the most respected and best-loved artists in South AmericaThe CD includes guest appearances by Mercedes Sosa, Gilberto Gil, Joao Donato, and Nilda Fernandès.
On A Roar of Southern Clouds, Pedro Aznar, leads
the listener on a journey through a rich musical tradition ranging across three continents: the ancestral song of the Andean peoples, the rhythmic legacy of Africa, and the European musical heritage, all seen through a contemporary prism with many facets.
A unique voice, not only in terms of his remarkable vocal gifts, but of his musical and poetic vision too, Aznar is an artist who has brought his work to maturity while staying faithful to his original inner calling. Songs of joy and longing, songs to cry and celebrate to, songs of raging fury and delicate tenderness.
In a world of haste and disillusion, this music breathes in a time all its own and speaks straight to the heart.
Composer, arranger, producer, multi-instrumentalist and singer, Aznar is one of the most prestigious and respected artists to emerge from South America in recent times.
His far-reaching experience includes being a founding member of Serú Girán, one of the most influential groups in Argentina, and his three-time Grammy Award winning work with the internationally acclaimed Pat Metheny Group.
The writer of several movie scores, Aznar has also published a book of poetry, Pruebas De Fuego [Ordeals by Fire].
Innovative, passionate and powerful, his music, featuring his virtuoso bass playing and a unique, unmistakable vocal style, explores the roots of Argentinean and South American music from a broad base, as respectful of old traditions as it is open to new directions.
Author:
World Music Central News Department
World music news from the editors at World Music Central