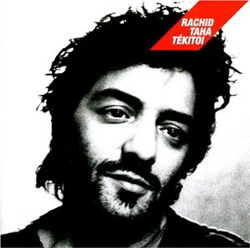 With impeccable timing, Wrasse Records, who certainly knows how to pick 'em, has unleashed a veritable Rachid Taha and Khaled fest of re-issues, amply satisfying those lusting for more after the successes of their 2004 releases, Tekitoi and Ya Rayi. Both are on a roll and currently basking in well deserved media praise and exposure ~ but don't even try to compare Rachid Taha and Khaled ~ they both might hail from Algeria, now live in France and have been two thirds of the 1998 exuberant extravaganza of the 1, 2, 3 Soleils Concert in Paris with Faudel; there the resemblance ends. However it's not a case of either or; both are highly enjoyable and collectable.
Khaled is the more stylistically consistent throughout his four Wrasse re-issues and although he enthusiastically embraces flamenco, funk, Bollywood, reggae and rap in addition to his métier of Rai, he is still quintessentially Khaled with his coloratura, voluptuous, plum-cake of a voice set against opulent, brassy big band intermixed with more seductive oriental ballads ~ all very danceable, these will get your hips snaking irresistibly!!
Starting way back in 1992 with the eponymous Khaled, his re-issues are peppered with his well-loved and memorable stage standards, both as studio recordings and live bonus tracks from the Hafla album; Didi and Mauvais Sang on Kahled; Abdel Kader, Chebba, and the title track on N'ssi N'ssi, Wahrane Wahrane, and the overwhelmingly romantic Aicha (twice!) on Sahra to name a mere handful ~ If anyone needs a definition of tarab, the almost untranslatable Arab word for the ecstatic, enraptured feeling a powerfully emotional performance can generate in an audience, then this is it!
Kenza, recorded in 1999, is slightly out on a limb in that it feels gentler, pensive, and more controlled with the first few tracks sounding uncomfortably close to easy listening but there's still enough of the big band, and Mele H'Bibti and Derwiche Tourneur at the end are a terrific pacy return to form . There's plenty of other good stuff on all four to luxuriate in, making it difficult to choose between them, so don't beat yourself up trying to make a decision, just buy the lot and have a party!!!
Rachid Taha is the more difficult to pin down and his four, neatly packaged as two double albums, are a very mixed bag ~ but this is no bad thing, even if it does make a succinct overview of his output a near impossibility: he's more of a musical acrobat and no stranger to taking risks, some of which you wish he hadn't, but when they eventually result in Tekitoi? you can totally forgive him the odd experimental faux pas on the way.
Olé Olé, with his blond haired and blue-eyed apparition on the cover, is chronologically the first of Taha's re-issues. Although there is some misguided whimsical dueting on the first track, Taha's overtly politicized lyrics and mouthy delivery as a solo artist really begin to firm up on this album with Non Non Non and Voila Voila (reprised from his previous 1993 eponymous album). And there's the bonus of conversational sleeve notes from Rachid himself.
Its companion, Made in Medina, a sublime and stylishly rocking admixture of exoticism with heavy metal riffs, heralds the dip into the dark that reaches its climactic best on Tekitoi?, with tracks such as Barra Barra and Foqt Foqt and the petulant En Retard, contrasting with the lighter, sweetly romantic Hey Anta and Cherie Cherie.
Released in the same year as the 1, 2, 3 Soleils live album, Diwan, with its simpler, limited instrumentation and arrangements is a more orthodox homage to the traditional sounds of his rai and cha'abi roots, including the moody anthems Ya rayah and Malheureux Toujours, but unusually, only two self penned tracks ~ Aida and Aiya Aiya. Habina and Menfi are almost unrecognizable from their rough neck stage versions.
Then……. brace yourself for Live (2001), the other half of this release ~ Taha doesn't pussy-foot around on stage and on Live exhibits the dangerous edge that is currently giving some people the willies; this is a frenetic, sweaty, all rocking, all rolling, powerhouse in-your-face performance that will get you in the guts and leave you wishing you'd been there.
Taha's four are a narrative of his curiosity, exploration and evolution as a singer and writer; across them we get the delight of hearing the gamut of his vocal incarnations from boyish clarity to visceral growling to the grunting and groaning of noises off. As with Khaled, a choice is difficult and Taha addicts who missed out the first time around will want them all, and why not?
Buy the CDs:
In North America:
In Europe: