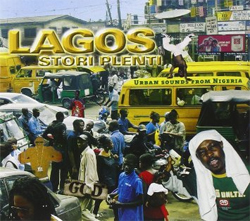 Lagos Stori Plenti is a compilation that showcases the new urban musical talent in Nigeria. The styles range from hip hop to reggae, dancehall and Afrobeat. For world music fans, the powerful Afrobeat songs by Bantu and Dede are the most appealing.
From the islands of Cape Verde comes the delightful vocals of Gabriela Mendes on Tradicao. Her style is melodic and rootsy based on the fununa and other island styles. She uses African and Afro-Peruvian percussion, excellent guitar work, delicate cavaquinho, and bass.
Senegalese kora player Seckou Keita shows the jazzier side of Manding music on Afro Mandinka Soul Tama-silo. His instrumental ensemble includes evocative Egyptian violin, drums and percussion, and jazz bass.
From Cameroon, singer-songwriter Simon Nwambeben accompanies himself with the guitar, and also uses soft percussion and female backing vocalists on Bitibak 1. He sings in Bafia and French.
On The Funkiest Man In Africa, the US-based Sila and the Electrofunk Experience combines Afrobeat with American funk. The energetic band is led by the intricate work of two electric guitarists, powerful funky bass, drum kit and West African drums, trombone and saxophone.
Prince Diabaté is yet another great kora master based in the United States. On Djerelon he uses a traditional ensemble with jeli (griot) vocals, bala (balafon), and bolon. In addition, Prince Diabate adds several guest guitarists, including the renowned Kanté Manfila. He also adds a bluesy twist to traditional Manding music.
Author:
World Music Central News Department
World music news from the editors at World Music Central