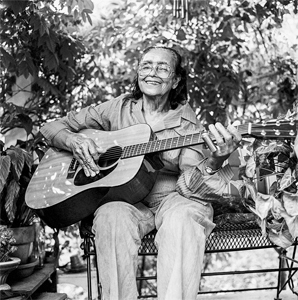 Etta Baker, a leading Piedmont blues guitarist, died Saturday, September 23rd. She was 93. Baker passed away in Fairfax, Virginia, while visiting a daughter who had suffered a stroke.
Etta Baker of Morganton, North Carolina, was born in 1913 and had been playing guitar since the age of 3. She was the premier female Piedmont blues guitar instrumentalist, playing the guitar everyday, and was constantly working on new arrangements. Etta maintained a beautiful yard and garden and was matriarch of 108 members in her immediate family.
On a summer day in 1956, Mr. Boone Reid of Morganton, North Carolina, took his family to nearby Cone Mansion. The brilliant folksinger Paul Clayton happened to be walking the grounds with his guitar. Mrs. Etta Baker remembered, "My daddy asked Paul to let me play One-Dime Blues. He was over the next day with his tape-recorder."
Clayton issued these pieces on an album that became among the most influential recordings of the folk era, Instrumental Music from the Southern Appalachians on Tradition Records. Etta's renditions of One-Dime Blues and Railroad Bill became standards at the height of the folk music revival in New England.
Taj Mahal a student at University of Massachusetts Amherst (UMASS) in the early 60s first heard this LP in a college dorm: "I was immediately taken by her version of Railroad Bill. She is the greatest influence in my guitar playing." Etta had numerous offers to perform but did not go because, "My husband could play piano real well, we could have made it, but he did not want to leave home."
Paul Clayton had a cabin outside of Charlottesville, Virginia, and he would bring his musician friends down from the New York folk scene to visit Etta. Paul, a friend to Bob Dylan brought Bob and Susie Rotolo to visit Etta in 1962 to celebrate Bob's 21st birthday. Bob soon after rewrote Clayton's song "Whose Going to Buy You Ribbons, When I'm Gone" into "Don't Think Twice, It's Alright," in which you can clearly hear Etta's guitar influence.
Etta's early recordings have always been available. The Bakers never granted permission for them to be released. Etta reflected, "Back then we just did not know what to do about it." 48 years later she reclaimed ownership for her music that had such far-reaching effect.
In recent years, Etta Baker received support from the Music Maker Relief Foundation, an organization dedicated to helping the true pioneers and forgotten heroes of Southern musical traditions. The foundation's label released Railroad Bill in 1999.
In 2004 Music Maker Relief Foundation produced Etta Baker With Taj Mahal (Music Maker, 2004). Taj Mahal has been a major recording artist since his debut album in 1967. For 35 years, he has been a tireless preacher of American roots music. As a two-time Grammy-winner (6 nominations) with 36 albums, his career has spanned acting in television & movies and scoring for television, plays, movies, and recording children's records. Much of his early work in the 70s set the groundwork for the present-day world music scene.
Taj Mahal has always made homage to Etta Baker by performing her music. He explains, "That chord in Railroad Bill is a very ancient root chord; it strikes straight through me, every time I hear it played."
Etta Baker's most recent studio recording is Carolina Breakdown (Music Maker, 2005). In 2006 Empire Musicwerks released Instrumental Music of the Southern Appalachians, a collection of remastered early recordings recordings
Articles:
Links:
Author:
World Music Central News Department
World music news from the editors at World Music Central