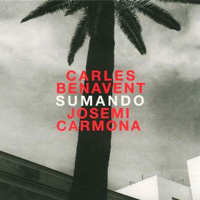 Carles Benavent and Josemi Carmona
Sumando (Nuevos Medios, 2006)
Jazz bassist Carles Benavent and guitarist Josemi Carmona have combined talents for Nuevos Medios release Sumando, remaking the fusion of jazz and flamenco into some bright and breezy. Composing and performing most of the instrumentation of Sumando's nine tracks, Benavent and Carmona weave flamenco rhythms
and tight, neat guitar work with some dreamy jazz themes to create a soulful mix.
Collaborators on
Sumando include Diego el Cigala, Joselín Vargas y Bandolero, Juan Carmona Jr., Jorge Pardo, Paquete, Tino Di Geraldo and Chick Corea; all of which just deepen the flavor of each track.
Opening track "Sencillito" sets up the CD with the light, graceful work of Benavent on bass against Carmona's precise guitar, backed up by rhythmic work of the Spanish palmas. The track entitled "Dama" is centered in flamenco with guitar and palmas, but the jazz spin Benavent's bass set against Diego el
Cigala's vocals makes the work both lush and interesting.
Chick Corea appears on the track "Soleó" on electric piano and enhances the depth launched off the flamenco riffs of Benavent and Carmona. "El Galleta" is all about pleasure, and it's ripe with a lazy summer jazz feel driven by palmas, percussion and Paquete's seductive vocals.
Sumando surprises with its easy feel and engaging twists and turns of the flamenco and jazz elements. Benavent's and Carmona's talents combine in such an intricate fashion as to make it impossible to suggest that Sumando is anything but a complex, complete fusion of the two genres and two musical minds. The richness of Sumando belongs to its simplicity and the virtuosity of Benevent and Carmona.
Buy Sumando in Europe
Listen to samples and buy MP3s: Sumando
Author:
TJ Nelson
TJ Nelson is a regular CD reviewer and editor at World Music Central. She is also a fiction writer. Check out her latest book, Chasing Athena's Shadow.
Set in Pineboro, North Carolina, Chasing Athena's Shadow follows the adventures of Grace, an adult literacy teacher, as she seeks to solve a long forgotten family mystery. Her charmingly dysfunctional family is of little help in her quest. Along with her best friends, an attractive Mexican teacher and an amiable gay chef, Grace must find the one fading memory that holds the key to why Grace's great-grandmother, Athena, shot her husband on the courthouse steps in 1931.
Traversing the line between the Old South and New South, Grace will have to dig into the past to uncover Athena's true crime.