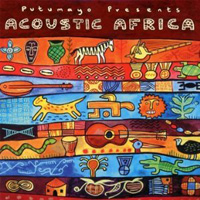 Various Artists
Acoustic Africa (Putumayo PUT 254-2, 2006)
Sure, electrified African sounds- be they highlife, soukous, m'balax, benga, mbaquanga or what have you -can bring about a primally sophisticated thrill like no other. But the softer side of African music has been getting a lot of attention too, with ongoing respect for the many longtime troubadour types who hail from that very musical continent and newly found acclaim for the more recently emergent ones.
Similar in scope and feel to their 2001 collection African Odyssey, Putumayo's new Acoustic Africa gives more than just star names a share of the spotlight.
Familiar voices like those of Habib Koité and Angelique Kidjo (though hers is a previously unreleased track) sound prime while the lesser-known artists slip comfortably into the batting order like old friends.
Senegal's Diogal kicks things off via his immigrant saga "Sore" basking in a wistful yet confident guitar and vocal style, followed by Eneida Marta from Guinea-Bissau warbling assertively over accompaniment by harp and kora (nice combination) in a call for women's equality. Also from Senegal is Laye Sow, who sings with urgent warmth of strained relations between his country and its northern neighbor on "Mauritania."
Gabriela Mendes proves herself the newest great voice from Cape Verde and the youthful spunk of Ivory Coast's Dobet Gnahore (whose 2004 release Ano Neko is a must) fuels "Palea," an unabashed declaration of love. There's more, but I'll leave off the blow-by-blow and just say this is a great collection with no bum tracks. Plus, the coinciding fall tour featuring three of the album's artists (Koité, Gnahoré and South Africa's Vusi Mahlasela) promises to be a good one.
Buy Acoustic Africa.
Author:
Tom Orr
Tom Orr is a California-based writer whose talent and mental stability are of an equally questionable nature. His hobbies include ignoring trends, striking dramatic poses in front of his ever-tolerant wife and watching helplessly as his kids surpass him in all desirable traits.