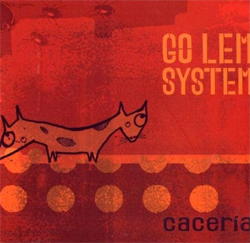 Music as exciting as the country it originates from, Barcelona's Go Lem System present their only London date at Jacksons Lane, North London's most buzzing and dynamic place for music, comedy, dance and theatre. The gig is also a chance to
hear Go Lem System's new album 'Caceria', released Monday 10 July by Satélite K, life for the first time.
As with the music of their friend Manu Chao, the sound of Go Lem System is full of sly hooks, catchy melodies, insidious rhythms and memorable lyrics, the perfect soundtrack for the end of the summer, Spanish Latino reggae vibe exuding
serious brass grooves, bass riffs, skankin' guitar and mellifluous vocals.
Go Lem System's Aleko and Serge hail originally from Argentina but moved to Barcelona, Spain, in May 2001 and there they began to gather around them the musicians who would eventually comprise the band. Go Lem's music may be simply described as 'Trip Songs in Dub' but it's complex mix takes "mestizaje" and fuses diverse rhythms sourced from reggae, dub, trip hop, drum 'n' bass, jazz and beyond to create the group's unique dance sound.
So popular are they in Spain that the huge star Manu Chao, one-time leader of the French rock band 'Mano Negra', now renowned for his Latin flavor, played Spanish guitars on Go Lem System's début disc 'Viaje' and appeared again on 'Caceria', singing 'Calle Go Lem'.
Date and Times: Sunday 10 September, 8pm
Ticket prices: £12 (£10)
Ticket Office: 020 8341 4421
www.jacksonslane.org.uk
269a Archway Road, London, N6 5AA
Highgate Tube
Author:
World Music Central News Department
World music news from the editors at World Music Central