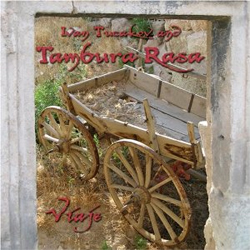 Ivan Tucakov and Tambura Rasa
Viaje (2006)
Two years after their last CD release, Ivan Tucakov and Tambura Rasa are back with a brand new album entitled Viaje (pron. Veeahe).
Viaje, Spanish for "Journey", is a voyage through a rich blend of musical styles including Flamenco, Balkan, Ghazal, Tango, and Persian. The 10 songs transport the listener through global music culture, from upbeat gypsy dance music to introspective Indian and Asian soundscapes.
The members of Tambura Rasa: Ivan Tucakov on guitar, Tarun Nayar on tabla, Suzka on violin, Brian Poulsen on lead guitar, Mike Michalkow on percussion and David Spidel on bass.
Guest performers on the album include the renowned sarod player Aditya Verma; Flamenco singers David Sorroche, Luis Gutierrez and dancer Karen Pitkethly; Victor Chorobik on the tenor flute and duduk; Douglas Schmidt on the Argentinean bandoneón; Christopher Suen on the guzheng and Mohammad Ali Sadjadi on tar and 'ud.
Buy Viaje.