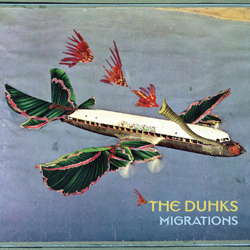 Canadian band The Duhks has a new album out. With their self-titled release in 2005, The Duhks, the band won universal acceptance as the up-and-coming neo folk-rock band. Visually stunning, musically inventive and emotionally stirring, The Duhks garnered massive critical acclaim, as well, topping year-end lists, winning a JUNO award, and successfully touring the world.
With the release of Migrations, The Duhks' profile will doubtlessly elevate, as the talented young quintet continues to develop its singular brand
of eclecticism with an album that is increasingly confident, personal, and distinctive. The album is co-produced by Tim O'Brien & Gary Paczosa.
The Duhks are 2005 winners for Outstanding Roots Recording, Western Canadian Music Awards! The Duhks were nominated for a 2005 Emerging Artist of the Year Award by the Americana Music Association and performed on the AMA's televised award show.
Upcoming Tour Dates:
08/13 Edmonton, Canada –
Edmonton Folk Festival
08/19 Wellsboro, PA – Stoney Fork Creek Campground
08/20
Schwenksville, PA – Philadelphia Folk Festival
08/31 Nederland, CO – Aspen Meadows
House September 2006
09/02 Pagosa Springs, CO – Four Corners Folk Festival
09/08
Kent, OH – The Kent Stage
09/09 Remus, MI – Wheatland Music Festival
09/10 Remus, MI –
Wheatland Music Festival
09/11 Los Angeles. CA – Los Angeles Convention Center
09/16 Calgary, AB, Canada -Saturday Night Special
09/23 Lyons, CO – Planet Bluegrass
Ranch October 2006
10/19 Live Oak, FL – Magnolia Festival
Buy Migrations>
Author:
World Music Central News Department
World music news from the editors at World Music Central