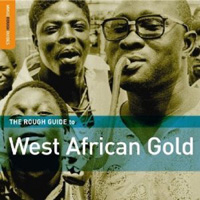 Various Artists
The Rough Guide to African Gold (World Music Network RGNET1173CD, 2006)
A golden age is indeed what's captured by the glorious sounds on this disc. The late 1950's to the early '80s was the era when the recently independent nations of Nigeria, Senegal, Ghana, Guinea, Sierra Leone and Mali were bursting with musical creativity. Indigenous rhythms laid the foundation for popular styles like highlife, m'balax and Afrobeat while Latin grooves, soul, funk and leftover European melodic strains mixed and matched.
Post-colonial optimism runs high here, from the unifying calypso tones of "Ghana-Guinee-Mali" by highlife master E.T. Mensah to the inclusion of state-sponsored ensembles Bembeya Jazz and Orchestre Rail Band de Bamako (back when a young Salif Keita was their featured singer).
Bembeya's "Whiskey Soda" is a hoot, the mock-intoxicated vocals of the late Demba Camara making the crunchy rhythm and Sekou Diabate's lead guitar seem ever sharper in comparison.
On the opposite side of the coin, Super Sweet Talks' musical rendering of "The Lord's Prayer" shows the understated sincerity of African gospel and Eric Agyeman laments the death of a lover on "Abenaa Na Aden?" Most of what's included packs a joyous punch, though, including Geraldo Pino's cocky "Let Them
Talk," the wonderfully flute-heavy "Ekassa No. 34/Igiodo-Giodo" by Sir Victor Uwaifo and his Melody Maestros and Orchestre Baobab 's tireless classic "Boulmamine."
Collections of vintage African music are cropping up left and right nowadays. Be sure to make a mental note that this is one you really must get. Compiler Martin Sinnock, best known for his unmatched knowledge of Congolese music, has put together something quite special here. < Buy the CD: In Europe: The Rough Guide to West African Gold
In North America:
The Rough Guide to African Gold
Author:
Tom Orr
Tom Orr is a California-based writer whose talent and mental stability are of an equally questionable nature. His hobbies include ignoring trends, striking dramatic poses in front of his ever-tolerant wife and watching helplessly as his kids surpass him in all desirable traits.