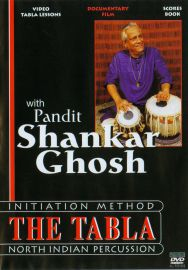 French publisher Le Salon de Musique/Editions Improductions has released a series of educational DVDs in English and French which contain lessons, scores and enthralling documentaries about the performers or the instruments featured. The detailed videos come in versions for Europe (Pal) and the US (NTSC).
The Tabla is an initiation method for the Indian tabla. The lessons are taught by Pandit Shankar Ghosh, one of the great masters of Indian percussion. The DVD set includes 1.5 hours of tabla lessons, a 47 minute documentary titled "Calcutta, capital of tabla," and a book with scores, a history of tabla and a glossary.
For fans of Middle Eastern Percussion, the 2 DVD set The Tombak (also known as zarb in some European countries) focuses on the popular Persian goblet drum. Iranian master drummer, Madjid Khaladj, begins the DVD with a lessons about how to hold the instrument and the various strokes needed to play the instrument. There is also a solo concert by Khaladj, a documentary about Iranian tombak craftsmen, and a booklet that accompanies the teaching method.
The jembe, also known as djembe, has become one of the most popular African drums in the West. On the DVD The Djembe, master drummer Inza Daibaté, from Burkina Faso, shows students how to play the drum and various rhythms. The DVD also includes a fascinating documentary about how a jembe is made. The accompanying booklet includes the scores, technical advice and descriptions of the knots needed to fix the drumheads.
The Samba the Enredo is subtitled In the Heart of Rio's Baterias. The 2 DVD set by Jean-Christophe Jacquin includes a tutorial method about the different drums sued in the batucadas, a documentary film by Bruno Ginestet shot in 2001, and a book with scores, history, and a glossary. All videos are available from
le-salon-de-musique.com.
Author:
World Music Central News Department
World music news from the editors at World Music Central