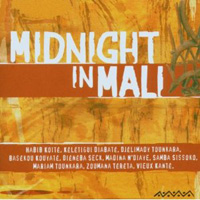 Various Artists
Midnight in Mali (Stern's Africa STCD 1102, 2006)
No stage would be big enough to hold every single master musician from Mali if they ever decided to meet for one massive live performance, but this delectable live CD, recorded in the capital of Bamako in late 2004, presents such an all-star blowout on a smaller scale. Guitarists Djelimady Tounkara and
Habib Koité are here, as is balafon wizard Keletigui Diabate, vocalist Dieneba Seck and many others including blind kora player Madina N'Diaye, who also overcomes the cultural handicap of being a woman playing what is traditionally a man's instrument.
Not that tradition is cast aside- the earthy sounds of the single-stringed sokou fiddle, n'goni lute and calabash percussion are key parts of the mostly acoustic band assembled here, which under the guiding hand of musical director Koite works through songs from Mali's various ethnic cultures with nimble, fiery finesse.
The opening "Artistes" is a delicate but mighty starting point, full of the swaying rhythms and tart soloing that has lately marked Mali as the birthplace of the blues. The vocal and instrumental pieces that follow, ranging considerably in terms of length and participants involved, are deeply nuanced
works that combine familiarity with spontaneity. Seamless solos are traded off, subtle and not-so-subtle shifts in intensity lunge forward and pull back, players and singers shine on their own and as one.
While it would be easy to single out favorite parts like Seck's wailing vocals on the lengthy "Signana" or the amazing work of Salif Sissoko on tama (the small talking drum more commonly heard in Senegalese music), you ought to just let this lovingly built performance come at you piece by piece. It's comprised of moments every bit as spine-tingling as the whole that they add up to. The talents of the participants are spot on, the intimacy of the live sound is nearly perfect and each selection is a jewel.
Buy Midnight in Mali
Author:
Tom Orr
Tom Orr is a California-based writer whose talent and mental stability are of an equally questionable nature. His hobbies include ignoring trends, striking dramatic poses in front of his ever-tolerant wife and watching helplessly as his kids surpass him in all desirable traits.