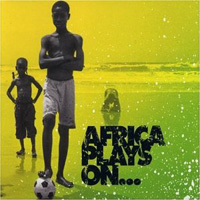 New York, USA – Africa's contribution to the FIFA World Cup 2006 is celebrated on 'Africa Plays On' – an album showcasing the vivid and rich diversity of the continent's music – released by Because on Monday 5th June. 'Africa Plays On' was conceived by PUMA and the New York-based music production collective Onda to support PUMA's World Cup campaign with the charitable organization United For Africa.
The album was inspired by the six sub-Saharan African Football Associations sponsored by PUMA – Angola, Cameroon, Ghana, Ivory Coast, Senegal and Togo – with tracks from each of these musically-rich nations plus contributions from artists around the world.
Rene Arsenault, Executive Producer of the album, says: "We saw a great opportunity to feature some of the most amazing musicians in the world, and our partners (PUMA and Because) shared our vision and let us run with it. It's like a conversation in the purest form, which represents the true spirit of African music – it's something that should be shared in order to grow. This is what we wanted to capture on the album." Africa Plays On features a number of collaborations including Senegalese rapper
Akon's reworking of Malian duo Amadou & Mariam's 'Coulibaly', The Roots-produced 'Kettode' by Senegal's Baaba Maal and 'Silani' by Guinea's
Ba Cissoko and Sudanese rapper K'Naan.
'Cocody Rock', the Ivory Coast classic by Alpha
Blondy, is remixed and features France's Neg' Marrons; Angolan vocalist Waldemar Bastos features the Jamaican artist Chaka Demus on a rework of 'Pitangha Madurinha' while Cameroon'sManu Dibango (of 'Soul Makossa' fame) joins Onda for 'Ngando', a remix of the PUMA "Welcome to Football" advertisement.
Other tracks are 'Kelli Magni' by Senegalese multi-instrumentalist Cheikh Lô (a track produced by Nick Gold of Buena Vista Social Club fame); 'Wahala' by Nigeria's Wahala Project, featuring musicians from Fela Kuti's band; the much-acclaimed Senegalese rappers Daara J with 'Number One'; 'Yaa Densoa', a hip-life track by Ghanaian rapper Tic
Tac; 'Defaal Lu Wor' by Wasis Diop – a
roots-inspired interpretation of The Talking Heads 'Once In A Lifetime'; 'Watusi' by the pioneering London-based Ghanaian band Osibisa and 'Amen' by
King Mensah, known as the 'golden voice of Togo'.
The album opens with 'Please Don't Stop', a collaboration between America's Grammy-winner John Legend and Cameroon's Richard Bona, and closes with a Louie Vega remix of '2000 Blacks Got To Be Free' by Fela Kuti and Roy Ayers.
Antonio Bertone, Global Director of Brand Management for PUMA explains the brand's involvement in the project: "Like football, music is an integral part of African culture. 'Africa Plays On' illustrates the connection between sport and
culture, something that is inherent to the PUMA brand. The CD compilation project is one element of our special charitable collection to benefit United For Africa's humanitarian efforts across the continent."
The CD will be available at major music retailers worldwide, PUMA concept stores and United For Africa retail trams in Berlin throughout the World Cup.
Tracklist
1. Richard Bona feat. John Legend – Please Don't Stop
2. Cheikh Lô – Kelle Magni
3. Amadou & Mariam feat. Akon – Coulibaly (Akon Remix)
4. Alpha Blondy feat. Neg' Marrons – Cocody Rock (2005 Remix)
5. Wahala Project – Wahala
6. Daara J – Number One
7. Baaba Maal – Kettode
8. Wasis Diop – Defaal Lu Wor
9. Ba Sissoko feat. K'naan – Silani
10. Osibisa – Watusi
11. Tic Tac – Yaa Densoa
12. Onda feat. Manu Dibango – Ngando
13. Waldemar Bastos feat. Chaka Demus– Pitanga Madurinha II
14. King Mensah – Amen
15. Roy Ayers & Fela Kuti – 2000 Blacks Got To Be Free (Louie Vega EOL Mix)
Author:
World Music Central News Department
World music news from the editors at World Music Central