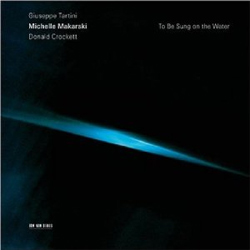 Michelle Makarski – To Be Sung on the Water (ECM/Universal Music Classics, 2006)
The Hilliard Ensemble – Nicolas Gombert "Missa Media Vita In Morte Sumus" (ECM/Universal Music Classics, 2006)
Tarik & Julia Banzi, Al-Andalus – Alchemy (Al-Andalus Productions, 2006)
Dastan Ensemble with Shahram Nazeri – Through Eternity, Persian Devotional Music (Rumi) (Sounds True, 1999)
Welcome to part 2 of our journey back to ancient eras. In Part I we explored the music of Europe of the Renaissance and Baroque eras. Now we are going to move back a little bit further in time to Medieval times and also take a detour to medieval Persia where the mystic poet, Jallalidin Mohammede Balkhi Molavi, better known as Rumi wove his magic with words. Rumi lived from 1207 to 1273. He was born while a young Francesco of Assisi was still hanging out in Italian grottos trying to make sense of an epiphany he received from Christ. I wonder if these two mystics ever crossed paths. It's highly unlikely since, Francesco of Assisi died when Rumi was 19 years of age.The two men were made from a similar star-crossed cloth laced in mysticism and intoxicating love. Both eloquent poets in their own right, Rumi went on to compose 2,500 ghazals entitled The Divan of Shams Tabrizi (Rumi's teacher and confident), 25,000 couplets, The Masnavi and The Rubaiyat of about 1,600 quatrains. While Francesco of Assisi, better known in the English speaking world as Saint Francis of Assisi, composed one of the most famous Italian poems (and songs), of all times, Canticles of the Creatures or also known as Canticles of Brother Sun.
But first let's start with American violinist Michelle Makarski's ECM recording, To Be Sung on the Water, featuring the work of Italian baroque composer, Giuseppe Tartini, (1692-1770) and contemporary American composer, Donald Crockett. This bare-bones recording focuses on a conversation between Tartini and Crockett's compositions, which to be honest, have little if anything in common, other than Makarski's expert hand threading multicolored threads of the baroque era and this dissonant modern age into an unusual listening experience. You will catch your ears straining to hear any similarities between the 2 composers' work, which sorry to say, I am not an expert who can point out those similarities to you. Although you might find the liner notes helpful.
"Tartini, founder of a school of violin techniques so potent that it still forms the basis of modern violin today, inherited the highly evolved traditions of his Italian predecessors Arcangelo Corelli (1653-1713), who perfected the violin sonata and the concerto grosso, and whom Tartini revered; and Antonio Vivaldi (1678-1741), who perfected the violin concerto, and whom Tartini criticized harshly."
And "Crockett grew up a singer, and lyrical melody, often combined with vigorous dance rhythms, is never far away in his music. His lyricism has an unmistakably American cast, sometimes sunny and straightforward, to be sure, but more often introspective or tough. To pass directly from the close of Tartini's A-major Sonata to the opening of Crockett's to be sung on the water is a revelation, casting light in both directions."
Tartini of Slavic and Italian descent focused on composing for the violin and his love for this instrument comes through in his lyrical compositions, Sonata IX A major, Sonata II d minor, and Sonata XIII b minor which appear on this recording sandwiched between and around Donald Crockett's Mickey Finn and to be sung on the water. The Tartini compositions are performed on solo violin and Ronald Copes joins Michelle on viola on these modern compositions. Certainly this is an intriguing recording with a musical conversation you might wish to eavesdrop, but I prefer the Tartini pieces to the Crockett ones.
Baroque music often leads to clear thinking whereas, a lot of the chaotic modern compositions of the 20th and 21st centuries feel too dissonant to me. It is as if Crockett's compositions slightly antagonize the shimmering Tartini sonatas. And yet as a whole this tension and release of tension can lead to a cathartic experience that speaks volumes about the world in which we currently reside, and a world in which we cannot easily escape, not even through musical journeys that travel back in time. And Crockett does offer some stunning musical respites within his work. Although his and my definition of lyrical differ.
The English male vocal sextet, The Hilliard Ensemble keep appearing in the liner and program notes of other Early Music performers that I have come across. Missa Media Vita In Morte Sumus, marks the 22nd recording that the group has produced on the ECM label. Renaissance composer Nicolas Gombert has also appeared several times in my research and for a rare composer heard these days, perhaps there is synchronicity at play or just a bit of universal humor as Early Music ensembles around the world scramble to record this rare composer's work all around the same time. As far as cosmic jokes go, this one is amusing. Vocal ensembles digging through remains of Dutch and Flemish composers' work, such as Jacob Clemens non Papa and Nicolas Gombert, unearthing rare gems at the same time with little awareness of the other musicians digging through the same earth.
Many composers strike gold during the era in which they reside only to be forgotten until they are rediscovered a century or two later. Vivaldi comes to mind. Then composers such as JS Bach who were prolific but not the touted during their era like they are touted in this one, also come to mind. What matters more than these rare discoveries is the music that they composed. What does it sound like to modern ears? Who will embrace this work now? And why must we preserve this music? Is it just for academics or for everyone? Asking these questions does not take away from the stark beauty of The Hilliard Ensemble's interpretation of Nicolas Gombert's mass and motets that appear on this recording, but puts forth a mystery of why Gombert's music is so important to us in this era. That is left to you, the listener to decide.
So you might ask, who is Nicolas Gombert? The liner notes tell us that Gombert was possibly a French-speaking Flemish composer born in 1495 and died in 1560. He composed sacred polyphony vocal compositions, but he also composed 60 secular songs. He followed the contrapuntal language of the Dutch composer, Josquin Desprez who may or may not have been a former teacher of Gombert. According to the liner notes, "Gombert's vocal textures are often densely packed and individual lines are characterized by an avoidance of rests." In other words, if you are a vocalist trying to sing these composition or a journalist trying to write about renaissance polyphonic music composed by Gombert, you would find it complex, possibly exasperating.
Gombert composed some pieces using up to 12 vocal parts. He composed from pre-existing songs and motets, but in turn created original compositions. The mass and motets (sacred stories sung a cappella) that appears on this recording features 4 to 6 voices. "Typically of Gombert's 'parody' style, the 'borrowed' material is treated with great freedom, although each mass movement begins with initial material of the pre-existent motet and employs the close of the model together with numerous passing references to the motet along the way. In the middle section of each movement, the composer takes individual phrases and motives, or sometimes specific rhythms, chords or chordal progressions, and subjects them to free variations; often the audible relationship to the model is entirely lost in what is, in effect, newly composed material." (Liner notes)
The Hilliard Ensemble shares much in common with the King's Singers and the Orlando Consort. They are all English chamber ensembles that feature polyphonic male vocals. The Hilliard Ensembles high end is covered by countertenor David James, the mid to high range is covered by 3 tenors, Roger Covey-Crump, Steven Harrold and Andreas Hirtreiter, baritone Gordon Jones bridges the gap between the low end of bass vocalist Robert Macdonald and the tenors. And all the voices, high, medium and low balance one another as they weave a musical tapestry of a cappella voices. And if you like what you hear on this disc, the ensemble offers plenty more CDs to explore.
Technically, Spain's Tarik and Julia Banzi's Alchemy is not an Early Music recording, but it fuses Spanish medieval cantigas with flamenco as well as, Moorish and Arabic influences. The music of medieval, renaissance and baroque eras would have incorporated musical influences found along the great Silk Road, North Africa and other regions of the world that Europeans had access. When you view a map of the world, you can see the close proximity of Africa to Spain and Italy. And if you travel back to ancient times, especially in Spain, you will find a melting pop of Jewish, Muslim and Christians along with pagans. People were nomadic, kingdoms fell, empires fell, regions changed hands and explorers were out conquering new worlds so all of this must have left its signature on early European music.
Oud player and multi-instrumentalist Tarik and flamenco guitarist Julia Banzi practice this sort of alchemy in their musical endeavors. Their recording, Alchemy fuses ancient and modern music as well as, African and European music. Medieval cantigas appear along side music composed for Federico Garcia Lorca's poetry. Arabic-style vocals and percussion merge with flamenco rhythms and Spanish folkloric vocals sung with great passion by Virtudes Sanchez. Virtuoso oud, and snappy flamenco guitar blend with the beats of finger drums as sacred and secular worlds collide on this seductive recording.
Composer and author Ted Gioia explains it better than I can in the liner notes. "For many of us, this fusion is a relatively new development. But for the musicians of North Africa and the Iberian Peninsula, it is a fact of life, a reality over a thousand years old. Here the sonic genealogy draws from a dazzling panoply of root sources –Arabic, Castilian, Jewish, Romany and African, among others." And yes, this musical alchemy dazzles in the way that a long-awaited sunny day does for people residing in a cloudy Seattle. To call this music an exotic tapestry might sound cliché because it is a phrase that us journalist have used many times to describe fusion music, but once again, this phrase works. Better yet, pick up the CD and listen to the consummation of the old and new worlds. And take the musicians' advice and read Paulo Coelho's The Alchemist while listening to the CD. Follow your bliss and transform your life.
Moving now from the poetry of Lorca's Spain to Rumi's Persia, The Dastan Ensemble performs homage to Persian mystic poets, Molavi (Rumi) and Hafez. While the Spanish musicians were dancing to cantigas and other Europeans were singing Gregorian plainsong chants in cloistered walls, and Franciscan brothers wandered as minstrels across Europe and the Middle East spreading the "Good News," Rumi composed intoxicating poetry based on the Sufi tradition. His words spun like whirling dervishes, spiraling upward to kiss the hands of God. Hundreds of years later and plunked amongst this modern technological age, Rumi's poetry still entrances us, still ignites our passion and causes us to feel intoxicated by universal love.
It is no coincidence that musicians along the Silk Route still honor Rumi today. If you pick up a Persian music recording you will most likely find an homage to Rumi on it. Iranian Dastan Ensemble brings us Rumi's legacy on their 1999 recording, Through Eternity, Persian Devotional Music. The songs are performed on the traditional setar, oud, spiked-fiddle, frame and goblet drums and guest vocalist Shahram Nazeri appears with the group, gushing forth impassioned vocals that delve into Rumi's mystical poetry. The instrumentalists in the group include, Hamid Motebassem on setar, tar, Hossein Behroozi-Nia on barbat (oud), Pejman Hadadi on percussion and Kayhan Kalhor (Ghazal) on spiked-fiddle. The songs move at a slow pace with subtle instrumental nuances intertwining with the Persian vocals.
The last track, My Heart is Slipping from My Grasp features the words of the more grounded poet of the two, Hafez (d. 1389). For those of you who haven't experienced medieval Persian poetry, here is a little taste of Rumi taken from the CD's liner notes.
"My soul is sacrificed for all Lovers–Love is such wondrous temptation-Worship, Love my friend, all else is but the wind." And that is just the English translation. English translation of the poems appear in the line notes along with some biographical and historic facts of the musicians and medieval poets. I encourage you to drink in the experience that this recording offers and become intoxicated with Love.
And this ends our journey… If you get lost along the way, follow your bliss and transform the metals of your life into gold.
Please visit www.geocities.com/pherlevi, Cranky Crow Whole Music where you will find mystic poets, troubadours, griots and musicians from various genres leading us to universal musical wholeness.
Author:
PatriciaHerlevi
Patricia Herlevi is a former music journalist turned music researcher. She is especially interested in raising music consciousness. She is looking for an agent and publisher for her book Whole Music (Soul Food for the Mind Body Spirit). She founded and hosts the blog
The Whole Music Experience and has contributed to World Music Central since 2003.