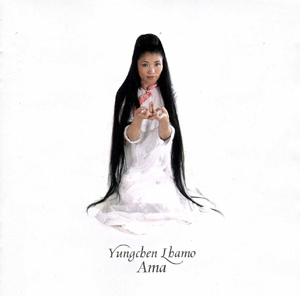 Yungchen Lhamo
Ama (Real World, 2006)
No doubt, the Tibetan "Goddess of Song," Yungchen Lhamo's release,  Ama has been long in coming. Although Yungchen has toured in the past few years, bringing her lush vocals, a cappella to many of the world's stages, her last CD, Coming Home was released in 1998. Her loyal following, which includes me, have been anxiously waiting for a new recording and now we are generously rewarded. Yungchen's most recent effort, Ama marries the vulnerable a cappella performance of her first recording, Tibet, Tibet with the lush instrumentation of Coming Home. The vocalist's compassion and spirituality burns and emits light like a butter lamp and her spiritual lyrics sail forth like a breeze dancing with Tibetan prayer flags. Messages of hope ring out as does the question, which Yungchen puts forth in her concerts, "when will the world unite and help liberate the country of Tibet?"
Ama, which acts as a tribute to Yungchen's long-suffering and courageous mother can be listened to on many levels. On one level the songs act as prayers and contemplation. On another level, the sometimes sparse arrangements act as a backdrop for Yungchen's spectacular vocal talent. And still on another level, the CD acts a marriage between Tibetan and Western musicians, not to mention the surprise appearance of the West African kora played by Mamadou Diabate. Guitar, trumpet, strings play along side Tibetan chants, piwang, danyen, bamboo flute and other exotic instruments. The collection of songs fall somewhere between Tibetan music or what we Westerners think Tibetan music should sound like and exotic European music.
Produced by Jamshied Sharifi, who deserves applause for the arrangements of the songs, this album gives birth to hope which we all so desperately need at this juncture. We are also reminded of the power of compassion, a quality which Yungchen possesses in great quantity.
The first track, Ranzen with its buzz of electric guitars and Yungchen's urgent
vocals, resembles the song, Defiance from the Ama CD. The song builds dissonance that is soon followed by lighter material. Gebu Shere focuses on Yungchen's vocals, backed by atmospheric guitar that shimmers in the background and highlights the song's melancholic mood. Om Mani Padme Hung, a Tibetan mantra which has appeared on all three of Yungchen's CDs receives a jangly treatment here with exotic flute, traditional lute and the low growls of Tibetan chants. No doubt, this track will be a favorite for many listeners. Guest vocalists appear on the tracks Tara (with Joy Askew) and Fade Away which features Annie Lennox.
Yungchen who moved to New York City in 2000, also brings 9-11 back to our consciousness. Her song simply titled, 9/11, (a spirited a cappella performance that should not be missed), carries hopeful sentiments, by the time the strings and Tibetan bells come in, tears will be flowing down listeners' faces. She cites in the liner notes, "We can only hope the experience has made us all more human." Her recording carries the same message and certainly anyone who takes the time to listen to these songs, will be blessed by the Goddess of Song.
Buy the CDs: The Prayer Cycle,Ama, Tibet Tibet, and Coming Home.
Author:
PatriciaHerlevi
Patricia Herlevi is a former music journalist turned music researcher. She is especially interested in raising music consciousness. She is looking for an agent and publisher for her book Whole Music (Soul Food for the Mind Body Spirit). She founded and hosts the blog
The Whole Music Experience and has contributed to World Music Central since 2003.