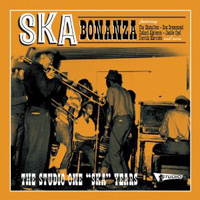 Various Artists
Ska Bonanza: The Studio One Ska Years (Heartbeat 11661-7805-2, 2006)
The jerky rhythms, choppy melodies and blazing horns of Jamaican ska may have given way to the slower tempos of rocksteady and reggae as the '60s progressed, but the style has survived. Ska bands are plentiful nowadays, as is awareness that the global popularity of reggae and all it stands for musically, culturally and spiritually is largely rooted in ska.
When Jamaica went from British colony to independent country in the early '60s, its denizens were hungry for a defining popular music that that borrowed from favorite American styles like jazz and r+b in addition to reflecting the island's African heritage heard in mento and other folk sounds.
Enterprising Jamaicans like Studio One founder Clement Dodd were quick to recognize ska's popular potential. Studio One became the starting point and proving ground for many early ska players and singers, not the least of whom were the Skatalites, whose defining instrumental sounds continue to be supremely influential more than 40 years after their initial splash.
Following closely behind their three Best of Studio One reissues from earlier this year, Heartbeat records now reaches further back with Ska Bonanza: The Studio One Ska Years. And what a reach it is. These two discs are loaded with some of the most enduring names in Jamaican music (the Skatalites, the Wailers, Toots and the Maytals, Alton Ellis, Ken Boothe, Ernest Ranglin, Jackie Mittoo, etc.) along with other obscure but wonderful talents, all of whom brought ska to Jamaica and the world.
Some familiar songs like the Wailers' "Simmer Down are here beside lesser known instrumental and vocal gems that show the strength of the mento/jazz angle (Don Drummond's "Don Cosmic" and "Man in the Street"), gospel fervor (the Jiving Juniors' "Over the River"), wry social commentary (Eric "Monty" Morris' "Enna Bella"), proverbial wisdom (Bunny and Skitter's "When the Well Runs Dry") and several early forays into recording by future notables such as Lee Perry and Rita Anderson (later Rita Marley).
I'm only scratching the surface, of course. There's a deluge of superb original ska here plus some extensively detailed liner notes, making this a must-have for longtime ska lovers and neophytes alike.
Buy Ska Bonanza: The Studio One Ska Years
Author:
Tom Orr
Tom Orr is a California-based writer whose talent and mental stability are of an equally questionable nature. His hobbies include ignoring trends, striking dramatic poses in front of his ever-tolerant wife and watching helplessly as his kids surpass him in all desirable traits.