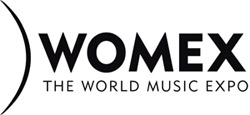 Berlin, Germany – The list of registered attendees for the Womex 2006 conference in Sevilla has surpassed previous years' records. "Sevilla 2003 was our best-attended WOMEX, and we're well on our way to surpassing it for 2006," said a Womex press release. "This is the biggest rush we've ever seen for registrations -already up 50% from this time last year. It's good we've committed to several years in Sevilla."
The Smart Rate registration deadline is Friday, June 30th. Click on Register for details.
To commemorate the return to Sevilla, Womex is mounting a special opening ceremony and concert for the night of Wednesday, 25 October. And, true to the rich heritage of Andalusia, the show will present two major Flamenco groups who best represent new trends: Son de la Frontera, for rootsy, percussive, more acoustic innovations in flamenco that mix in Cuban styles, too; and Mártires del Compás, from Sevilla, for the sizzling, modern contemporary fusion of forms – something they memorably call Flamencobilly.
The evening will begin with Banda de la Maria calling everyone into the halls. And the night will end with the enviably named DJs, Electroputas, from Barcelona. Other surprises are being planned for the opening event.
Author:
World Music Central News Department
World music news from the editors at World Music Central