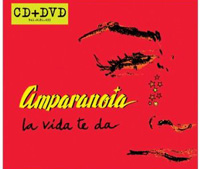 Amparanoia
La Vida Te Da (Wrasse Records, WRASS 171, 2006)
There's an interesting disclaimer in the liner notes of this album. "All tracks were recorded with everyone playing together at the same time," it states. I can believe it. The music of Spain's Amparanoia has a natural tightness that feels like the work of a highly attuned band not particularly interested in trickery. They're among the current crop of Spanish artists who are embracing older styles (flamenco particularly) and injecting them with contemporary attitude while seeing how well they fuse with music from beyond their borders.
In Amparanoia's case we're talking about Latin jazz, funk, and rock, hip hop, Jamaican pulses and more. Like such similarly inclined artists as Ojos de Brujo, Manu Chao and Sergeant Garcia, they leap nimbly between genres, grooves, cultures and hemispheres, seldom faltering and always jamming. Plus they're blessed with lead singer Amparo Sánchez, who combines range with an unaffected husky, sexy quality that handily cinches up ballads and dance tracks.
Song after song bursts with versatility, but some true knockouts abound. One is "Sacaron Agua," which goes from flamenco swirl to mid-tempo funk to Santeria chant. Another is "Nada," a stunning reggae/Afro-Cuban blend. Then there are songs which hook you with mournful trumpet, bits of vocals in English, guitar riffs that balance Spanish, Caribbean and African influences and rhythms that build as expertly as they deconstruct. La Vida Te Da ("Life Gives You") has its only real lapse at the very end, in the form of a not particularly inspired cover of Bob Marley's "Redemption Song." No matter. Everything else on the disc is a marvelous combination of Spanish heart and soul with far-reaching freshness.
Buy La Vida Te Da
Author:
Tom Orr
Tom Orr is a California-based writer whose talent and mental stability are of an equally questionable nature. His hobbies include ignoring trends, striking dramatic poses in front of his ever-tolerant wife and watching helplessly as his kids surpass him in all desirable traits.