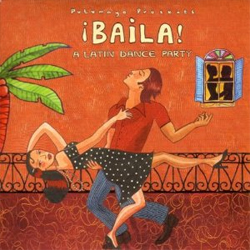 New York City (New York), USA – With ¡Baila!, Putumayo showcases purely Latin artists alongside musicians from other regions who have embraced Latin sounds. The party starts in the streets of Havana before hitting the road, making stops in Los Angeles, New York, France, Belgium, Sweden and West Africa.
Raúl Paz kicks it off with "Mua Mua Mua," seamlessly blending the deep grooves of his native Cuba with the contemporary stylings he's picked up since relocating to France. Back in Cuba, his countrymates NG La Banda attempt to conquer the world from their backyard. "La Cachimba" announces the virtues of a new musical style that's sure to make them dance in Bayamo, Paris and San José, as the song boasts.
From Cuba, the party travels to Colombia, where the collective known as La-33 is revitalizing salsa by reconnecting it to the genre's golden era of the 1960s and 70s when it was the soundtrack of New York's disenfranchised Latino community. Not to be outdone, however, New York City delivers a
rhythm-driven one-two punch with The Spanish Harlem Orchestra and Yerba Buena contributing the best of the old school and the new. On the West Coast, Argentinean ex-pats LLos Pinguos and Congo native Ricardo Lemvo integrate various Latin elements that keep the party people on their feet.
The next stop on the party express is Ghent, Belgium, where Gabriel Rios landed after leaving his native Puerto Rico to live with his European lover. Experimenting with a variety of influences while maintaining his deep Latin roots has made this unique musician an unlikely pop star in his adopted home.
From Belgium, ¡Baila! travels travel to Stockholm, Sweden, where the high-powered ensemble Calle Real is bringing a thaw to their native city.
The
Africando All Stars and Brooklyn Funk Essentials round out this collection.
Buy ¡Baila!.
Author:
World Music Central News Department
World music news from the editors at World Music Central